Police Chief Diaz to retire; Assistant Chief Pugel named interim


SEATTLE -- There are some big changes coming to the Seattle Police Department.

"I feel incredibly lucky to have been able to be part of this organization for 33 years," Police Chief John Diaz said Monday as he announced he will retire sometime in April.

"I wasn't going to leave until we had that reform issue up and running and in place that monitoring plan is in place; we've restructured the department so we can get that running as smoothly and quickly as possible," Diaz said.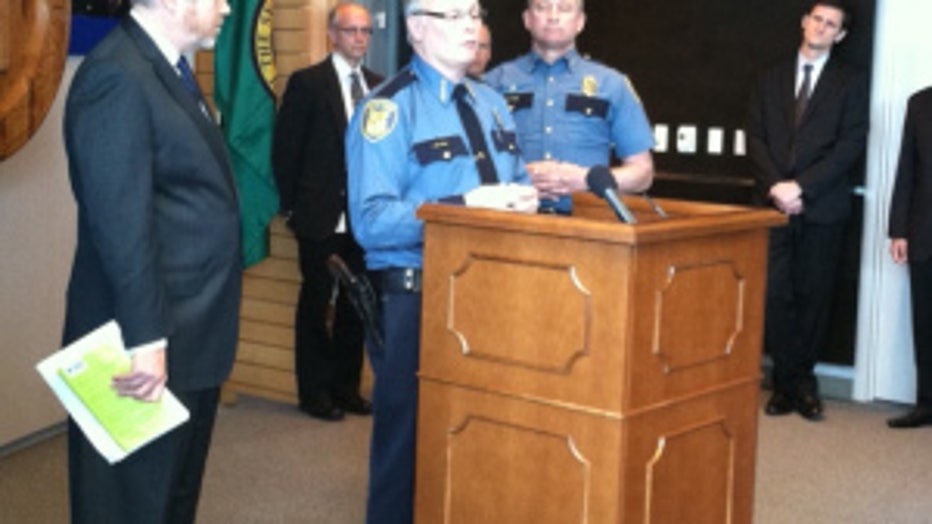 From left, Seattle Mayor Mike McGinn, Police Chief John Diaz and Assistant Chief Jim Pugel attending Monday's news conference.


Diaz's time as chief has been difficult from the beginning. There were several high-profile allegations of excessive use of force, many of which were caught on tape. They split the community, and caused a lot of citizens to lose faith in the department.

They also led to a U.S. Department of Justice investigation and calls for reforms to combat excessive force.

Then, last week the results of an independent investigation into last year's May Day riots found the department was ill-prepared for the violence and lacked good command and communication with its officers on the street. Diaz admitted the fault was with the command.

"I won't say every decision I've made was right. What I will say is that I tried to make every decision based on what I believed was right, and I leave pretty proud of my career here," Diaz said.

And there were some bright spots and successes during his tenure, including better response times, crisis-intervention training, and implementation of the neighborhood policing plan.

"Major crime is down 10% since he took control of the department and it is now at a 55-year low," Mayor Mike McGinn said.

Assistant Chief Jim Pugel will take the helm as interim chief while a search is launched for a new police chief.

"He came up through the ranks," Seattle Police Officers' Guild President Rich O'Neill said of Pugel. "He has walked the beats, he has a very diverse career and he has distinguished himself as a member of the department; he is more than capable of handling the job" of police chief.

O'Neill said Pugel is the kind of leader rank-and-file officers want and need.

"They're looking for stability, to have someone who leads the department in a way to get these reforms done as quickly as possible, so the department can move forward and out of this period of time where it seems like bad news after bad news," O'Neill said.

"I promise to continue to work with all the groups, with the media, with everyone who has an interest in seeing Seattle an even better, an even safer city," Pugel said.

Pugel is a University of Washington graduate. He began his career at SPD as a volunteer reserve officer in 1981. He was hired as a full-time officer in 1983 and was assigned to the SWAT team in 1986. He was promoted to sergeant in 1990, to lieutenant in 1994, captain in 1999 and then became assistant chief in 2000.