Man charged after shooting 2 in Ballard shelter
SEATTLE - The man who was arrested for shooting and injuring two people at a shelter in Ballard Wednesday night was formally charged Friday.
According to court documents, King County prosecutors charged 35-year-old George Sloan with three felonies; assault in the first degree, assault in the second degree and unlawful possession of a firearm in the first degree. 
Authorities say on Wednesday, April 27, Sloan was being too loud after quiet hours at around 11:00 p.m. at a shelter at St. Paul's United Church near Ballard High School. When others complained, he became upset and starting beating people with a crowbar. One victim tried to call 911 and Sloan smashed his phone. Court documents say that's when Sloan shouted that he was going to kill everyone before pulling out a gun and firing multiple times. Two victims were shot.
According to Seattle Police Department (SPD), officers arrived and found a 60-year-old man with a gunshot wound to his arm, and a 59-year-old with a graze wound in his arm. Seattle Fire Department took both the victims to Harborview Medical Center in stable condition.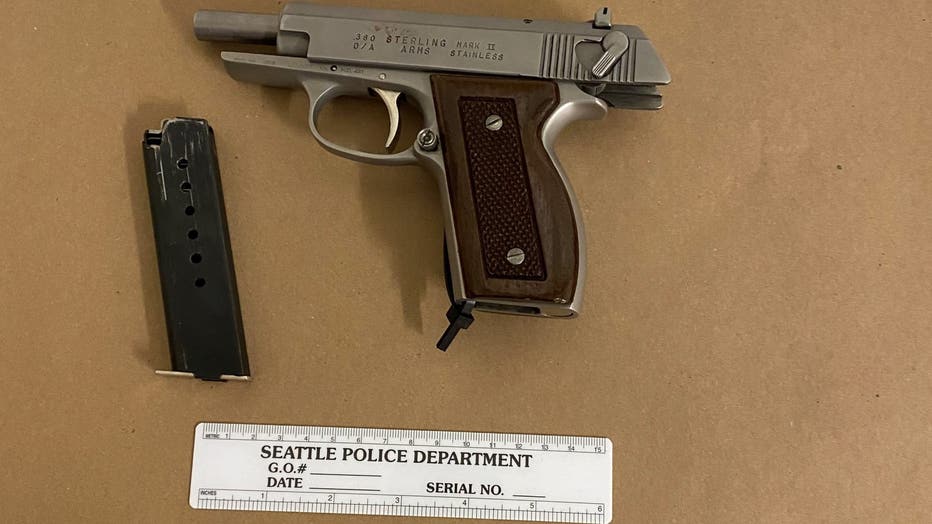 Handgun recovered from Wednesday night shooting in Ballard (Seattle Police Department)
RELATED: Murder trial for Auburn police officer postponed; victim's family protests delay
RELATED: Court documents detail woman's near week-long kidnapping in Tacoma, suspects charged
Authorities say police found and arrested Sloan a couple blocks away from the scene, and a firearm was recovered in some nearby bushes. 
During his court appearance, prosecutors discovered Sloan has never been eligible to possess a firearm. In addition, he has already served in prison for three convictions of armed robbery in the first degree. Prosecutors say Wednesday's incident was an incredibly violent and concerning assault, which fortunately did not result in more severe injuries. 
The state is concerned Sloan will commit another violent offense if he is released. 
Sloan is being held in King County Jail on a $750,000 bond, and is set to appear in front of a judge on May 12.