Police arrest 3, confiscate weapons as hundreds protest peacefully in Seattle


SEATTLE -- Police arrested three men as officers worked to keep two planned demonstrations separate Sunday in Seattle. The Patriot Prayer rally was held in Westlake Park and a larger counter demonstration in Denny Park.

Police made a total of three arrests: a 40-year-old man for obstruction, a 37-year-old man for assault, and a 25-year-old man for assault.



As hundreds of peaceful demonstrators began to gather in Denny Park for the Solidarity Against Hate rally and march, police observed some people infiltrating the crowd carrying axe handles, two-by-fours, and balloons containing an unknown liquid substance.

Others also wore dark glasses, goggles, and bandannas to conceal their identity, police said.

Around 2 p.m., people participating in the Denny Park counter demonstration began marching towards Westlake Park. Police lined the march route in order to prevent the groups from meeting. Police said, "this was in the interest of safety for all those involved."

Some members of the Denny Park counter demonstration tried to circumvent police by running down an alley between 5th and 6th Avenues and Lenora. They also tried to use a makeshift shield to force their way past police bicycle line. There also were reports of rocks thrown at officers.

Authorities say pepper spray was used to on those people in order to get them to stop.

Members of the Denny Park counter demonstration continued west on Lenora, looking for access to Westlake Park. Additional attempts to push past police at 4th and Lenora were met with pepper spray, police said.

The Denny Park counter demonstration ultimately stopped at 2nd and Pine. Some individuals got close to the police line and covered officers with silly string.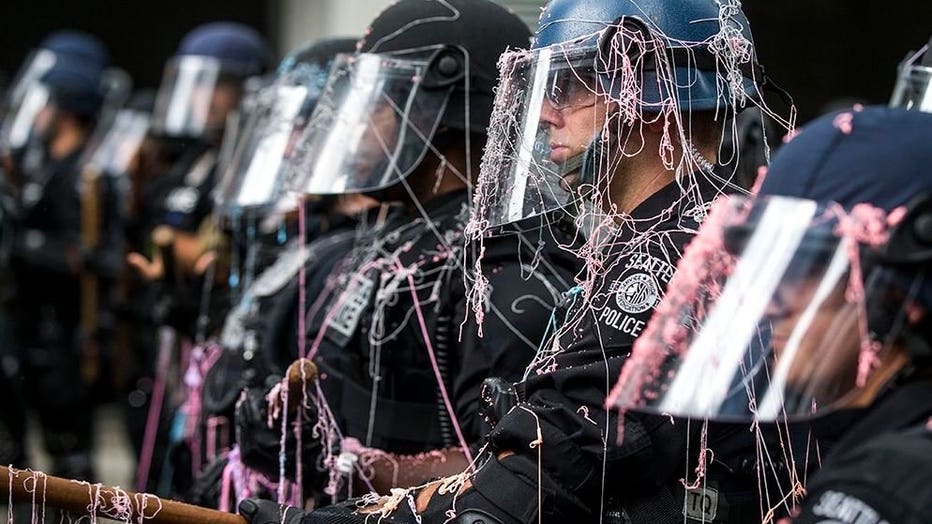 Police are sprayed with silly string as they hold the line at 2nd Avenue and Pine Street to block the "Solidarity Against Hate" march from reaching Westlake Park, where the "Freedom Rally" by the Portland... (Bettina Hansen / The Seattle Times)


Soon after, some in the crowd lobbed fireworks at officers. Police issued a dispersal order, using pepper spray and blast balls to move the crowd.

The counter demonstrators eventually left the intersection and marched back to Denny Park.

The planned demonstration in Westlake Park wrapped up around 5 p.m.

All force used by officers will be thoroughly reviewed, as per department policies developed in partnership with the United States Department of Justice.