Police arrest 10 during May Day 'anarchist' march in Seattle; some damage reported, but largely uneventful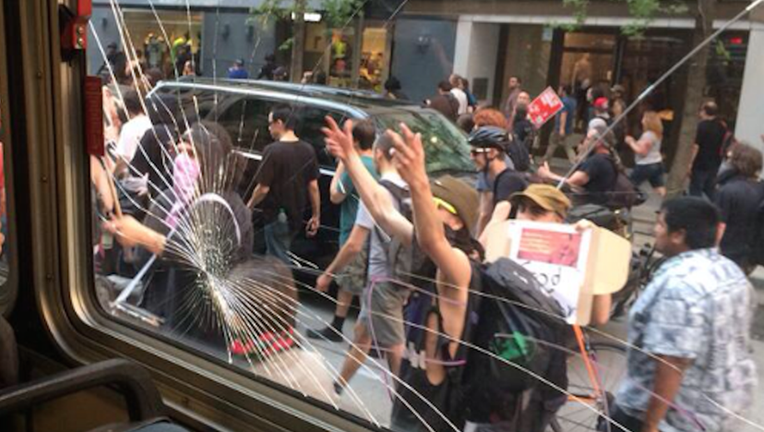 article


SEATTLE -- Hundreds of self-proclaimed anarchists marched, apparently aimlessly, through Seattle's downtown streets for hours on May Day, with many wearing black clothing and masks and carrying black flags on flagpoles.

In the end, 10 were arrested for tussling with police, property damage and assault. Despite the arrests, it's already being called a relatively peaceful May Day for Seattle.

Fierce clashes between police and protesters erupted the previous two years on May 1.

The first reports of May Day-related vandalism began trickling in Thursday morning after officers found "Kill SPD" spray painted on a bank at 13th Avenue and E. Madison Street.

"Whose streets? Our Streets!" chanted this year's May Day marchers, who carried a banner that read, "Die Yuppie Scum" and another that read, "Anti-Capitalism and Anti-State."

The arrests were part of a group that circled the Central District and then downtown for three hours.

Later, police officers at 6th and Battery fired pepper spray at protesters after police said bottles were thrown at them. They also arrested a second person and said a gun was recovered from one of the marchers at that time.

According to police, these were the reasons for the nine arrests:




The marchers seemed to have no clear direction, moving from the city's Capitol Hill neighborhood into downtown and then back again, and seemed uncertain which way to turn when they came to intersections.

During the course of the long, wandering march, the window on a Metro Transit bus was broken and a man's car was dented and scratched with what he said were protesters' skateboards.

Late Thursday night, the protesters gathered at Broadway and Pine, set a bonfire in the middle of Broadway and forced police to move in and put it out.  At least one suspect was arrested for throwing a brick at police. After the police moved off, the protesters started  up the fire again. Police moved in on bicycles again, and a sixth person was arrested. Later, police in riot gear cleared protesters off of Broadway and remained stationed, shoulder to shoulder, on each side of the street.

Hundreds of demonstrators who had gotten a city permit marched for immigrant reform and workers' rights started their walk at Judkins Park at 3 p.m. The march culminated with a May Day rally at Westlake Park at 5 p.m.

It was the other events later in the day that had police worried.

At 6 p.m., protesters holding a "May Day Anti-Capitalist March" began at Seattle Central Community College and moved to downtown Seattle.

The other event – a May Day Anti-Capitalist, Anti-Gentrification Rally & March -- began at 6:30 p.m. At 12th and Spruce outside the youth jail.

The two groups eventually merged in downtown Seattle.

"It's time to break them before they break us," proclaimed posters plastered across Capitol Hill Thursday morning.

At least one death threat aimed at Seattle Police officers was found spray painted on a utility box and Seattle Police tweeted a photo of a threat they said they had received which showed a effigy of an officer in flames. But again, nothing came of it.

"The department's Force Investigation Team was activated and available during the event, but was not needed," SPD said.