Police announce street closures in downtown Everett for Trump rally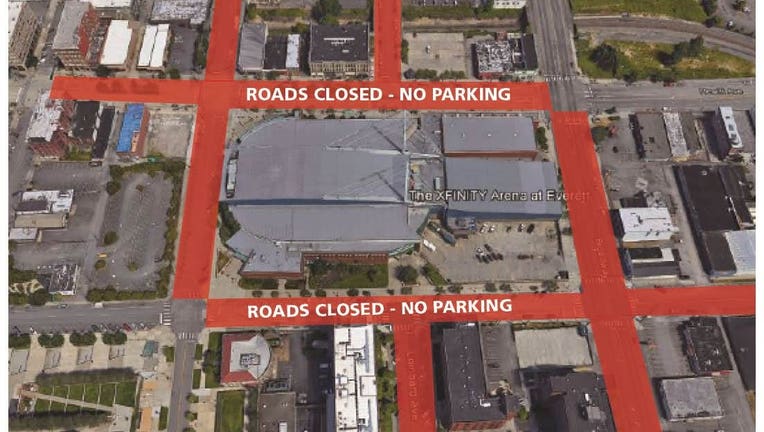 EVERETT, Wash. -- Police  announced Monday that city crews will close streets  at midday Tuesday in the immediate vicinity of the Xfinity Arena event with GOP presidential candidate Donald Trump.

"At a minimum, the public should plan for closures of Hewitt, Oakes, Lombard, Broadway and Wall near the arena Tuesday afternoon and evening," said Aaron Snell, Everett Police public information officer. "We may need to close additional streets as the events get under way, so we ask drivers and pedestrians to be patient and to expect delays if they need to travel through the area."

Snell said that Everett Police and Everett Fire are working with Xfinity Arena staff and event organizers, who expect more than 9,000 people to attend the event that is expected to start at 7 p.m.

Law enforcement personnel from other area agencies will also be in Everett to assist with traffic control and security, Snell said.

"Our priority is the safety of everyone who will be participating in tomorrow's events," said Snell. "There will be additional security checks at the arena, so we encourage people to travel light, leave bags and backpacks at home and be prepared for long lines."

Entry to the event will be through the main entrance at the northwest corner of the arena at the intersection of Hewitt and Oakes avenues, Snell said, adding that firearms and weapons will not be allowed in Xfinity Arena or on the sidewalk surrounding the arena during the event.

In addition, he said, federal code prohibits demonstrations on the sidewalk outside the arena during the event. Designated demonstration areas will be available and clearly marked, he said.

For more information and a map of the closures, visit www.everettwa.gov/trumpvisit.

Here is more information from the city of Everett:

Parking:






Street parking and paid lots are available in downtown Everett. Participants should arrive early.

Parking can be found on the Downtown Everett Association website. Larger lots include:
Everett Station (3201 Smith Ave)
Everpark Garage (2815 Hoyt Ave)
Snohomish County Parking Garage (3000 Rockefeller Ave)

Alternative transportation should be considered with the anticipated number of people and vehicles. Everett Transit or other public transportation should be considered.