BODY CAM VIDEO: Pierce County deputy nearly gets hit by suspect escaping in stolen car
EDGEWOOD, Wash. - FOX 13 News obtained video of several law enforcement agencies tracking down a stolen car suspect who deputies say rammed into a police car.
It started as a 911 call for a suspicious vehicle on Wednesday, around noon, in Edgewood. The Range Rover had plastic covering the windows and no plates. It had also been parked at the intersection of 20th Street and 88th Avenue East for several hours, deputies said.
Responding deputies say they found a 30-year-old man, later identified as Dvante Santel Maurice Jackson, passed out in the running vehicle.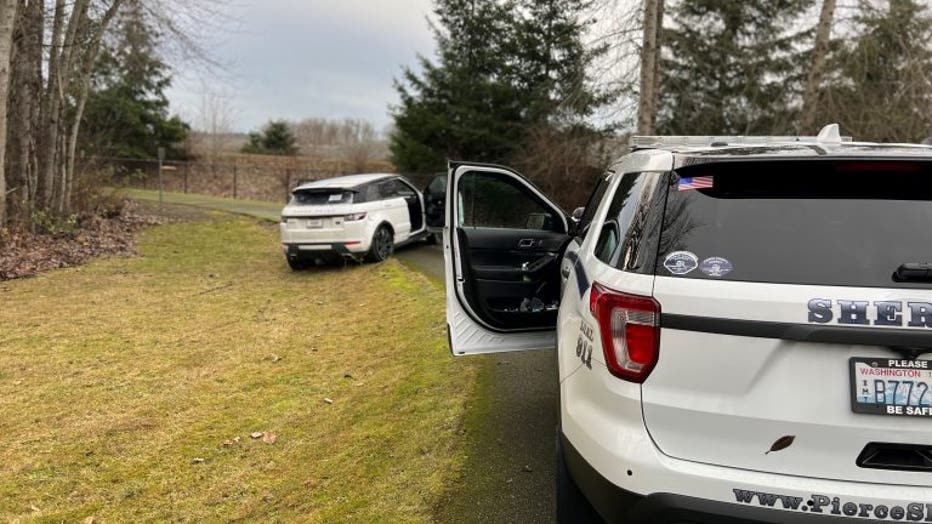 Photo from the Pierce County Sheriff's Department 
When deputies tried to wake Jackson up, he took off in the vehicle, which came back as stolen, court documents said.
Pierce County body cam footage shows a deputy jump out of the way of the car as it speeds off. Sgt. Darren Moss with the Pierce County Sheriff's Department says the driver crashed into a Milton Police patrol car during his escape. 
"We were looking for a guy who we didn't know was armed by tried to strike one of our deputies with a vehicle," said Moss.
The suspect drove from Edgewood to the Puyallup Recreation Center. He then ditched the car and ran into the woods to hide.
Video shows a Tacoma Police K-9 unit and a Washington State Patrol's air unit helping locate the suspect.
According to court records, Jackson has 19 felony convictions, including several counts of stealing vehicles. He was arrested on Wednesday and faces two counts of second-degree assault, eluding, and first-degree driving with a suspended license.
His bail is set at $200,000.
Stolen cars are an issue plaguing all of Washington.
New numbers released from the Puget Sound Auto Theft Task Force say there were 45,033 cars reported stolen statewide in Washington in 2022.
In just December 2022: 
King County had 1,451 reports of stolen cars
Pierce County had 972 reports of stolen cars
"We need more tools to do the job better," said Moss. 
For more information on Pierce County Sheriff's Department's efforts to crack down on car thefts and other crimes, click here.