Pierce County sheriff elicits massive police response after claiming newspaper delivery man threatened him
TACOMA, Wash. - Pierce County Sheriff Ed Troyer is under fire after a Seattle Times report revealed he called 911 on a Black newspaper delivery driver near his home and told dispatch the man threatened Troyer's life. 
When questioned later by a Tacoma police officer, the sheriff said he'd never been threatened.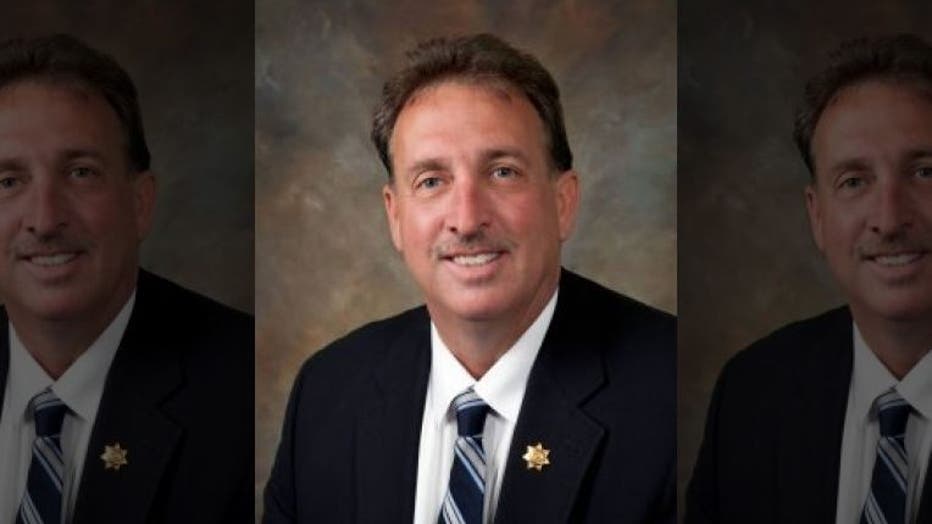 Pierce County Sheriff Ed Troyer (submitted photo)
It all started around 2 a.m. Jan. 27, when Troyer called dispatch and said a man was going from driveway to driveway and appeared to be prowling. Troyer said he started following him after hearing a noise and seeing suspicious activity in his neighborhood. 
The Seattle Times obtained audio of Troyer's calls to dispatch. He told the dispatcher that the "suspect," who turned out to be 24-year-old newspaper delivery driver Sedrick Altheimer, looked homeless and was driving a "beat up" vehicle. 
"I'm trying to be polite to him, but he just says I'm a racist and wants to kill me," Troyer told dispatch. 
Dispatch alerted 19 law enforcement agencies in the South Sound to an "officer needs help" call, prompting 42 units to respond. 
"Just letting you know we've got half of Pierce County headed that way," dispatch told Washington State Patrol. 
The massive response was called off after a Tacoma police officer arrived and said "we don't need the whole world here." 
Altheimer, the delivery driver, was detained at the scene. He was frisked and later gave police permission to search his car. It was filled with newspapers. 
"I'm yelling 'What are you guys here for? What am I doing wrong? You guys are trying to arrest a paper carrier!' " Altheimer said. 
"All he had to do is calmly say, 'Hey, I am delivering newspapers,'" Troyer said.
Troyer told The Times that the incident had nothing to do with race.
The sheriff released the following statement Friday afternoon:
"As the elected Sheriff, I am committed to policing that is transparent, accountable to its citizens, and administered free of racial bias.  These are the standards I hold myself and the Pierce County Sheriff's Department to.  My actions were consistent with these standards.  I stand by my original recorded statement to dispatch, where I reported that there were verbal threats made.  Due to the nature of the call, the Tacoma Police Department investigated the matter and concluded the inquiry without incident and I invite further inquiry into the matter.   I am saddened to learn that Mr. Altheimer felt he was treated in an unfair manner.  I am committed to continuing the ongoing dialogue with our community to ensure that policing in Pierce County is free of racial bias and performed in a manner that upholds the public trust."
The report has prompted public statements from Pierce County leaders and calls for Troyer's suspension from the local Black Lives Matter affiliate.
Pierce County Executive Bruce Dammeier called it "an alarming story."
"The Council is concerned about what occurred and is eager to learn more about the circumstances of that night," Pierce County Council Chair Derek Young said in a prepared statement. "The values of the Pierce County Council promote civility, equity, and acceptance. We take this situation seriously and know that public trust in law enforcement is paramount. As we have more information, we will have a better sense of appropriate next steps available to us."
Troyer has been with the Pierce County Sheriff's Department for 35 years and served as its public information officer before he was elected sheriff in November 2020.
The Pierce County Council and Executive do hot have administrative control of the Pierce County Sheriff since it is an elected position.
"The reports we have seen in the media are deeply concerning to us," Tacoma Mayor Victoria Woodards said in a statement to Q13 News. "Like the rest of our community, we await more information regarding what happened that evening. Public safety continues to be among the City of Tacoma's top priorities and we remain committed to ensuring the safety of the community we serve."
The Washington Black Lives Matter Alliance has demanded that Troyer be suspended pending "an independent, thorough and transparent investigation of Troyer's egregious, anti-Black confrontation."
"[Troyer] has abused the public trust, and abused, misused and weaponized his standing in law enforcement to harm Black and Brown Lives," the Alliance wrote in a letter to Pierce County Executive Bruce Dammeier, the County Council and others.
Jamika Scott is an organizer for Tacoma Action Collective, a group advocating equity for all who encounter law enforcement agencies in the South Sound and beyond. Scott was critical of Troyer and the Pierce County Sheriff's Department. 
"They have a history of anti-Black surveillance and white vigilantism," she said. 
Friday's report, including audio of the Sheriff's conversation with dispatchers, left Scott to call for Troyer's resignation from office. 
"I think it might be time to figure out what his second act could be," said Scott.
This is a developing story. Check back for updates.
The Associated Press contributed to this report.
Stay connected with Q13 News on all platforms:
DOWNLOAD: Q13 News and Weather Apps
WATCH: Q13 News Live
SUBSCRIBE: Q13 FOX on YouTube
FOLLOW: Facebook | Twitter | Instagram