'They're somebody's whole world:' Pierce County mother pleads for information on missing daughter
TACOMA, Wash. - Detectives are asking the public for help in searching for a missing woman Wednesday.
According to Pierce County Sheriff's Department, Authorities believe 21-year-old Aidan Spear may be in the Hosmer St. area of Tacoma.
Spear is a Native American, 5'6", 120 pounds, with brown hair and blue eyes. She was reported missing on Feb. 22. Her family hasn't seen her since Jan. 24, according to the Pierce County Sheriff's Department. 
Jessica Brown says when she saw the picture that is being used for her missing daughter, it broke her heart.
"She is like, one of the kindest people you'll ever meet," said Brown.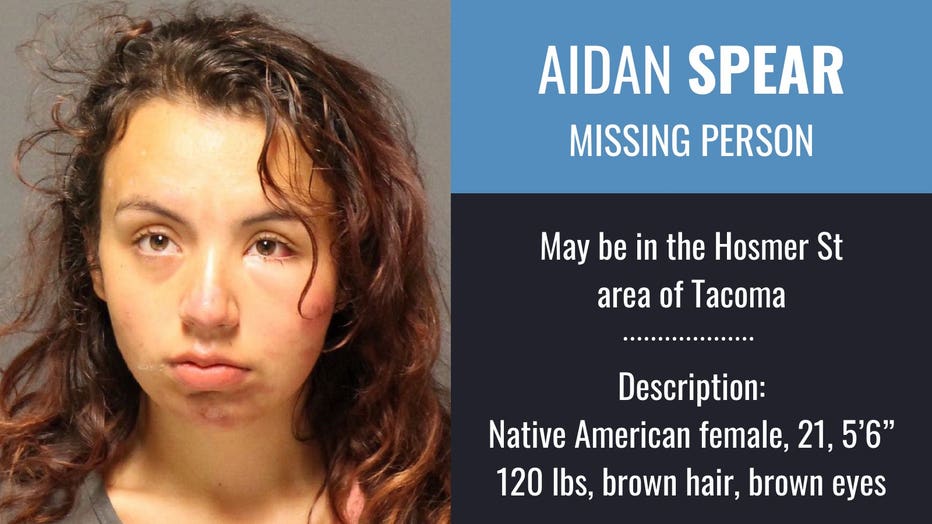 (Pierce County Sheriff's Department)
Spear is Brown's first and only daughter.
Brown says her daughter loved her family, especially her little brother. Spear worked hard growing up, and was even a member of her high school's swim team, Brown said.
However, Brown says it was around this time that she noticed changes in her daughter.
"I knew something was wrong, and it seemed like she was on something. And I would take her to the doctor, and they would just say, 'we can't tell you anything. She doesn't want to know. We can't tell you anything,'" said Brown.
Brown says it was not just drugs, but she also feared her daughter was dealing with mental health issues, but could not intervene.
"Nobody would help me. And then it just kind of got worse, and worse, and worse," said Brown.
Four the last four years, Spear has been homeless. Brown says she has been there for her daughter, when her daughter will allow it.
"You just watch somebody that you love so much, and they're doing something that you know is so terrible, and there is just absolutely nothing you can do about it,' she said.
That is why in January, Brown said she finally felt a feeling of hope.
"When we were at lunch, she said, 'I realized I can't do this forever,'" said Brown.
Brown tells me she found a rehab center for her daughter. She says this time felt real, like things would finally change.
However, on the day she and her daughter were supposed to meet, Brown's hope faded.
 "She said, 'I'm sorry. I have to say goodbye to somebody, and I am still going to go [to rehab]. I'm really serious about this, but I have to say goodbye to them. So, I'm going to be a little late.' And that was the last time I've ever seen or talked to her," said Brown.
That was on Jan. 25, Brown said. 
Brown says it has never been this long that she hasn't heard from her daughter. She said none of her daughter's friends have heard from her either.
The photo posted alongside the missing person flyer for Spear is not the daughter Brown says she recognizes. She says people online are being cruel and ruthless about her daughter, but Brown says it's only because they don't know Spear as she does.
 "She's just another addict to them. And so I think that's probably why I'm even talking to you. I need people to know. She's not, they're not just another addict. Somebody loves them and they're somebody's whole world," said Brown.
Authorities are urging anyone who might have seen her or know where she is to contact Pierce County Sheriff's Department at 253-798-7530.
Get breaking news alerts in the FREE FOX 13 Seattle app. Download for Apple iOS or Android. And sign up for BREAKING NEWS emails delivered straight to your inbox.
Stay connected with FOX 13 News on all platforms:
DOWNLOAD: FOX 13 News and Weather Apps
WATCH: FOX 13 News Live
SUBSCRIBE: FOX 13 on YouTube
DAILY BRIEF: Sign Up For Our Newsletter
FOLLOW: Facebook | Twitter | Instagram