Picha Farms: Puyallup family farm since 1904


PUYALLUP, Wash.—Puyallup is known for having the richest soil in the world. Farmers there say you can dig and dig and never hit a rock. The Picha family knows that better than anyone - they have farmed in the Puyallup Valley for 114 years.

Brothers Dan and Russ Picha share a lot in common. They're both teachers in the Puyallup School District. They're both family men. They both love sports. They both have contagious laughs. And they're both farmers.

On a sunny late August afternoon, they pull up to their family farm for our interview. They both hop out of their separate trucks, and let out their labs. One black, one yellow. Even their dogs know the land well, running around, eating the strawberries leftover from berry season.

"It goes back to 1904 when my grandparents came out and purchased land through a middle person from the native Puyallup Tribe," said Dan Picha.

The brothers speak just feet away from the home where their grandparents settled over 100 years ago. It's the same home where their father was born, on the corner of 52nd and 66h in the Puyallup Valley.

"Initially they grew dairy, they did berries, they did bulbs, rhubarb over the years," said Dan.

When Dan and Russ start talking, the memories begin rushing back.

"Dad coming down the hall, knocking on the door saying, 'get up its time to go work,'" Russ recalls.

"I can remember mornings when the night before we would make a sign and drape it on our door knob that said 'on strike'", said Dan, laughing.

The brothers smile as they reminisce and tell a story of their grandpa Mike with his oxen, helping dredge the channel of the Puyallup River. They say there's an unofficial story of their dad Ted, as a 3-year-old, cutting the ribbon to the bridge.

"That's probably going to get taken down in the next few years… but that too has gone full circle in our family," said Russ.

Years after that ribbon cutting, their father went on to become one of the best farmers in the valley.

"My dad as a kid, he was in 4H, FFA, he was just a farmers kid, and it's always been a part of who he is and I think he had a lot of respect in the valley," said Dan.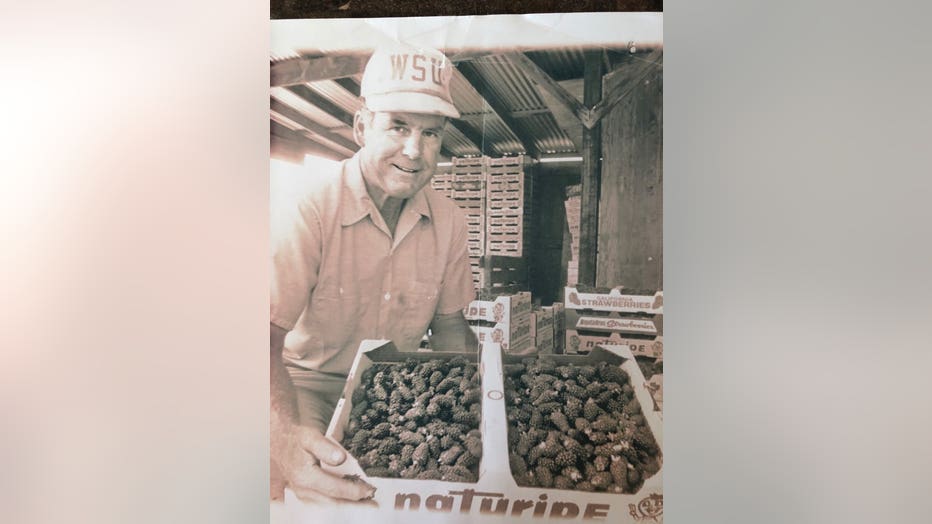 Ted Picha, on Picha Farms.


He had so much respect, that a statue honoring Ted Picha went up in Puyallup's Pioneer Park, in the center of town, in 2004.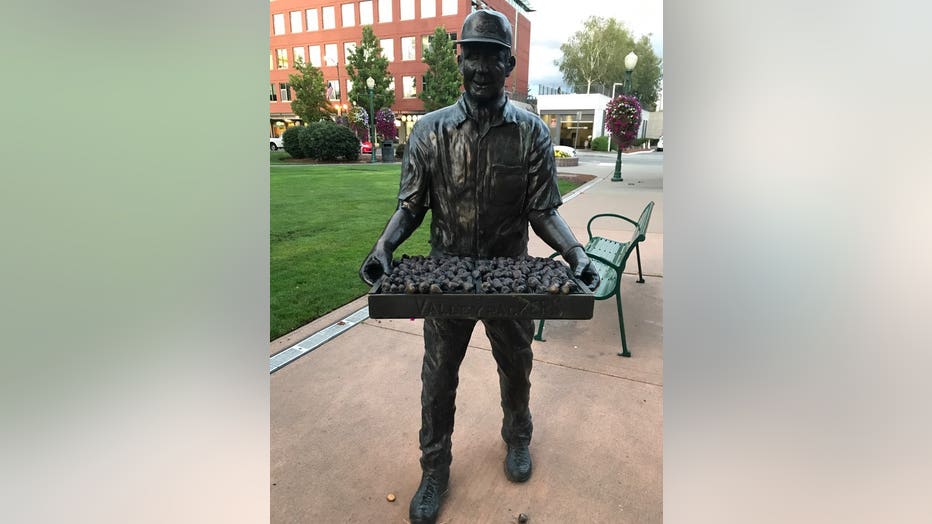 Statue of Ted Picha in Puyallup's Pioneer Square


"Local farmers all attended and it was unveiled and it was pretty cool. And he passed away about six months later of cancer," said Dan.

Speaking with the brothers, you can tell right away how much they adored their father. With sadness in his voice, Russ says the hardest year for him was in 2005 when Ted passed away.

"I remember it took me a few years to get used to the fact of not having dad around. And that first summer it was like, 'oh my gosh this is crazy. What are we doing?'", said Russ.

Together, they figured it out.

In the years since their dad's death, the brothers have continued the family legacy. They've taught their own children, now adults, how to work the farm.

"They've all been involved out here in the farm. They go to college and come back and Russ' kids have just finished up and mine have gone and come back. They're helping. They ask what we're doing on the farm. They love coming back and sharing it with their friends," said Dan.

Dan and Russ both agree they want to keep the farm running for generations to come, but they are uncertain if that is even a possibility. Like any small business, they say the rapid growth in Western Washington is squeezing them out.

"We live in a port city. There's growth and there's going to be growth. Look at Seattle. Look at our home costs, look at our reality. But you gotta maintain this or I think people once it's gone, they're gonna regret that it's gone," said Russ.

The Picha's say a county plan to extend the road in front of their stand from two lanes to five lanes in the next few years could cut their operation in half.

"They're trying to accommodate industry but in accommodating industry, they're stepping on agriculture," said Dan.

Growth versus green space is a passionate topic for the Picha's, not just on the farm, but back in the classroom too. Remember- they're both teachers.

"I mention the fact that kids see themselves leaving out of high school and want to get out of the area. That eventually they're going to come back and settle where they grew up. What kind of a community do they want their kids to grow up in? What do they want to still see- the green space and the farming areas and do they want to go to the market? And what will it take politically to do that?" said Dan, a teacher at Puyallup High School.

"It's fun to have that discussion in class- some kids want this, other kids want that. And you look at pros and cons of each and you leave it in the hands of kids and you at least introduce that idea to what decisions they'd have to make as young adults when they come back," said Russ, a teacher at Aylen Junior High.

The future of their family farm- now left in the hands of politicians, and the next generation. But through all of the uncertainty, one thing for the brothers is clear.

"It's been really fun. It's been a good life."

A life spent providing gifts for Puyallup.

"It's fun to see a kid's face light up when they see a pumpkin. There's something about the magic of a pumpkin," said Russ, with a sentimental smile on his face.

Picha Farms will open their corn maze, pumpkin patches and pumpkin slingshot starting September 30th. They will be open weekdays, after Dan and Russ get out of school, from 3pm to 6pm and on weekends from 10am until 6pm.