Party shooting, police standoff lead to arrests of accused South Kitsap home burglars, ATM thieves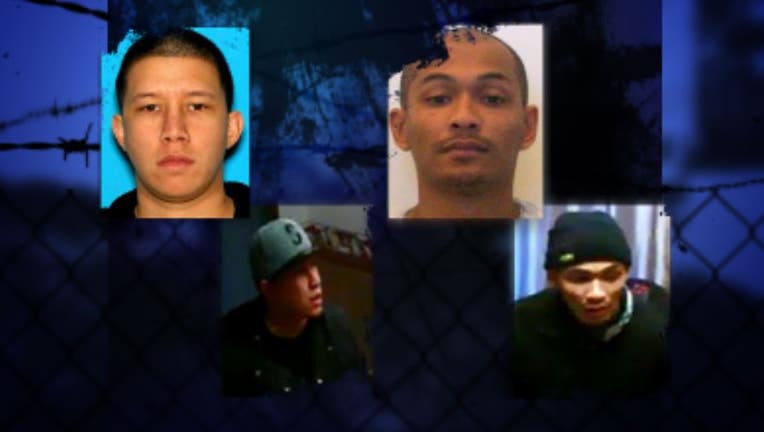 CAPTURE UPDATE January 17, 2015 -- Andrew Hoffman was booked into the Pierce County Jail after deputies say he shot a man at a house party. Hoffman was arrested by Pierce County Sheriff's deputies for shooting another man in the shoulder during a house party in Puyallup's South Hill neighborhood. Detectives say on the night of the shooting a loud party was taking place at Hoffman's girlfriend's neighbor's house. The neighbors talked with Hoffman and his girlfriend about the noise and they decided to join the party.  At some point Hoffman's girlfriend believed that she was touched inappropriately by another male at the party. Witnesses say Hoffman began arguing with several males, than displayed a handgun and shot one of the men in the shoulder inside the house.  Witnesses heard 2-4 additional shots outside the house as the suspect struggled with other party-goers. Detectives say Hoffman ran from the party and was captured by deputies following a short foot pursuit.  Hoffman admitted to being in possession of a firearm and told deputies he threw it as he ran away. The handgun was located by deputies in a nearby yard.  As the victim and witnesses were questioned, deputies say Hoffman kicked out a window to a patrol car. CAPTURE UPDATE December 24, 2015 -- The Kitsap County Sheriff's Office says Tony Rem was arrested in Las Vegas after a standoff on Christmas Eve. The Las Vegas Sun says Rem barricaded himself at a motel next to the airport, was armed, and held a woman hostage. He let the woman go about an hour later and surrendered a few hours after that. Police found numerous weapons inside the motel room, including an assault rifle.
FUGITIVES WANTED IN KITSAP COUNTY -- Detectives have identified and issued arrest warrants for two suspects in the burglary of a South Kitsap home last week, the Kitsap County Sheriff's Office said Friday. Two armed men forced their way into a house in the Sunnyslope area of South Kitsap during the afternoon of Nov. 14. Once inside, the men ransacked the residence, which was unoccupied at the time. The burglary was caught on surveillance camera. The sheriff's office said items stolen during the burglary include a semi-automatic handgun, personal identifying documents belonging to the residents, credit cards, electronic entertainment console, jewelry, and more. The sheriff's office said the suspects were identified as: -- Andrew Michael Hoffman, 28, Asian/Pacific Islander, with black hair, brown eyes, 5-foot-6, about 170 pounds. Hoffman has multiple tattoos on his arms, hands and and hip. He is known to frequent South Kitsap County, Tacoma and South Kitsap. Felony convictions for burglary and theft. -- Tony Rem, 25, Asian/Pacific Island, with black hair, brown eyes, 5-foot-8, 160 pounds, multiple tattoos on his arms, hands, shoulders and chest. He is known to frequent Auburn, Federal Way, White Center and Rainier Valley. Felony convictions for assault. Two warrants have been issued for first-degree burglary and unlawful possession of a firearm for each. Bail set at $250,000 for each. The sheriff's office said the two suspects may still be in possession of a black 2001 Dodge Dakota pickup truck, license B14937V (WA), registered to an address in Spokane Valley. Persons with any information about Hoffman or Rem, or the Dodge Dakota truck, are asked to contact Kitsap County Sheriff's Detective Gerald Swayze at (360) 337-4479 or via Kitsap County Central Communications (9-1-1 dispatch) at (360) 308-5400. Reference: Kitsap County Sheriff's Office case number K14-01167. Information may also be submitted through Crime Stoppers of Puget Sound: 1-800-222-TIPS (8477) OR text 486 + message to: 274637 (Crimes). Investigators believe the two men may also be responsible for the theft of an ATM from a SeaTac motel three weeks ago.