Parents protest latest Seattle School District boundary map


SEATTLE -- The Seattle School District has released a new boundary map for elementary and middle schools -- its third proposal in the past couple of months -- but parents say it's still not right.

"I'm here to protest," parent Anna Marshall said. "The community engagement process for boundary drawing has been deeply flawed. And the proposed changes would be bad for Maple Leaf families."

"Keep Beacon Hill kids in Beacon Hill," Tama Weinberg said. "And let us walk to our neighborhood schools."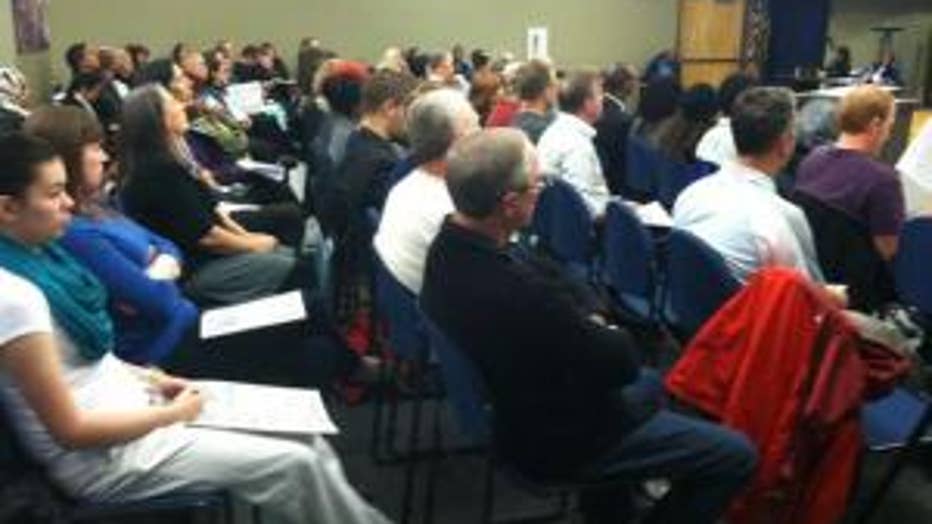 Parent after parent walked up to the podium Wednesday night to tell school board members the problems with their latest proposal for school boundaries. So many had concerns that some had to wait out in the hallway.

'Walkability' was one of the issues brought up again and again. Instead of keeping students in their own neighborhood, the latest plan has many having to take buses to schools miles away.

"There are seven grade schools closer to our house than the one they want to send us to," Julie Van Arcken said.

Stability is an issue for Maddy Grassy, who's in sixth grade at Hamilton Middle School. She might have to transfer to Eckstein Middle School next year.

"It's hard to settle in when you're not sure how long you're going to be there," she said.

Her mom is frustrated, because this is not the first time they've been asked to change schools.

"I understand there's a capacity issue, but these kids have been shuffled so many different times," Lisa Merlin said. "I'm a teacher, I know how important continuity is, being able to build a rapport with classmates and staff, it's really important."

The school board is listening to the complaints. They've already revised the boundary map three times.

"I really do think that they've made some good progress," Van Arcken said.  "They have made some families happier without upsetting other families."

But the board acknowledges there is still work to be done.

"We are all trying to come up with the best proposal for growth boundaries we can," Seattle School District director Michael DeBell said. "I'm working on an amendment, just like Director Carr."

Maddy said board members should realize that its students who could lose the most if a better plan isn't found.

"These are the best years of our lives. Being shuffled around from school to school, that's not really making use of the time," she said.

A couple school board members are having community meetings of their own over the next week, and they're promising to submit amendments to address some of the concerns that have already been brought up.

They're scheduled to meet again and vote on the boundary map on Nov. 20.