Package thieves targeting Pierce County


BONNEY LAKE, Wash. -- It seems police are getting new reports every day about thieves targeting packages left on doorsteps. It's happened again, four times in the past week alone in Bonney Lake.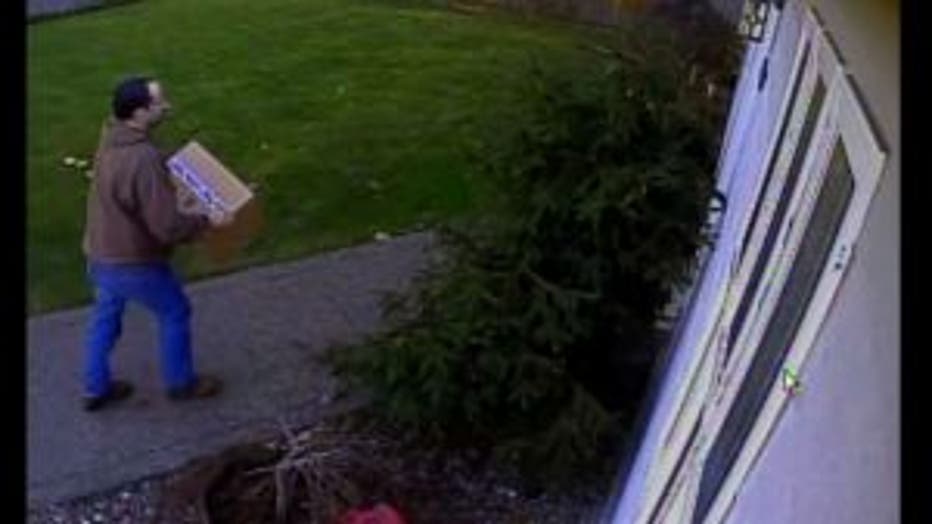 Police may have never been tipped off if that crook wasn't so picky. Cameras caught him and his buddy ditching a package on a stranger's doorstep; apparently they didn't want the air filter they stole earlier that day.

"We're guessing that he just didn't like what was inside of it and he was going to discard the evidence on someone else's front door," said Bonney Lake police officer Todd Green.

The package was stolen from a different home just down the road and then dumped when the thieves didn't want what was inside.

"The vehicle is going to stand out and the individual is going to stand out," said Green. "It's a good idea if this individual sees himself on the news that he turns himself in because there's a lot of people now looking for him."

At closer inspection you can see the thief wasn't acting alone. Cops think his passenger is a woman and investigators believe this pair could be trailing delivery trucks.

"Package thefts has been on the rise and the main reason is because there are so many packages right now," Green said.

Surveillance cameras also caught a pair of crooks stealing packages from the North Park Villa Apartment complex in Seattle.

Those crooks even opened the boxes right in the hallway. Amazingly, tenants haven't caught the thieves in the act.

"I'd rather see them in jail. I'd rather see them serving their time and maybe deter people from doing it," said West Seattle resident Casey English.

English also caught a thief rifling through his mail box. He'd been hit so many times that he installed a surveillance camera at the street and it paid off catching the crook red-handed.

English hopes by publicly shaming the criminal someone will turn them in.

"People like me can catch people like you," said English. "It's not a nameless or faceless crime -- people are affected by this."

And cops say surveillance cameras are making it easier for the criminals to be identified.

"There are people out there this time of year specifically targeting people getting package and mail delivery," said Sgt. Cindi West from the King County Sheriff's Office. "Cameras are great, we're finding more and more people using cameras now and so we're catching people."

That's exactly what Bonney Lake police hope happens in this case.

Investigators say the best way to protect yourself is to eliminate the opportunity for crooks.

"Call UPS or FedEx and let them know you'll pick up that package at their location," said Green.

But police don't want people to confront any package thieves. What they really need are good witnesses. If you see something suspicious, try to write down the license plate number and try to get a good description of the crooks and call 911.