Owner of horses shot on farm: 'As soon as I walk outside, I start shaking'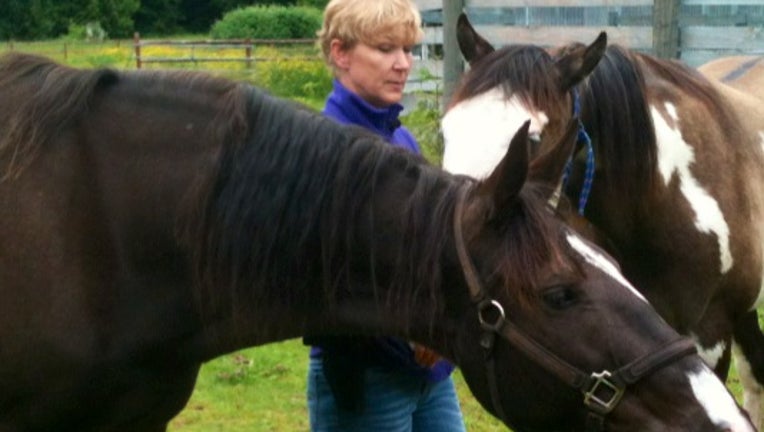 SEDRO-WOOLLEY, Wash. -- It's a farm under fire. In the last month, two horses have been shot on Michelle Miner's pasture in Skagit County.

"As soon as I walk outside, I start shaking," Miner said Wednesday. "I start hyperventilating, I check the treeline, and I wear my gun all the time."

Her gun has been on her belt ever since gunfire began ringing out around her farm.

Both of her horses are recovering. Jacks was hit in the abdomen. Spencer was shot in the head from long distance, right between the eyes, and is lucky to be alive. You can still see the stitches on his head where the wound was sealed up.

Spencer can still bow, and perform some tricks, but Miner believes he's changed since he was shot and is permanently spooked.

"He was phenomenal," said Miner, in tears. "You don't get two horses in a lifetime like that and they took that from me. They took him."



Miner initially thought the shots were accidental, maybe someone target shooting in the woods. She now believes they are  intentional. Over the weekend, she said someone took a shot at her while she was on her tractor, the bullet whizzing behind her back.

The Skagit County Sheriff's Office has opened an investigation. A local horse group, the Ripley Horse Aid Foundation, is offering a $1,000 reward for information leading to the shooter or shooters.

Vi Aiken, who lives just behind Miner, said she hasn't heard any shots, but is worried for her neighbor.

"I can't imagine how she even has the guts to go outside," said Aiken. "But then she wants to work outside."

Lately, most of Miner's work is keeping her horses out of the line of sight of the wooded area. She wants to leave but won't, because of her horses like Jacks, rescued and brought to her at the brink of death, and then nurtured back to health.

"I've kept him alive, and for him to almost die when I was supposed to be keeping him safe, I can't let that happen."