Over 200 teens gather at vigil for 2 Peninsula High students killed days apart
GIG HARBOR, Wash. -- More than 200 teenagers gathered together Monday night for a somber occasion, mourning the deaths of two Peninsula High School classmates who tragically passed away within a few days of each other.

"It was awful, I've never experienced something like that before," said student Ella Hamby, who said she knew both teens.

"I cried for like four hours. It was unbelievable at school," said Logan Rutz, a friend of both teens.




Peninsula High School junior James Oatridge died Sunday morning when the car he was riding in was T-boned. A few days earlier, Kyle Stillion, also a junior at Peninsula High, was killed when he was hit by a car while walking down Key Peninsula Highway on Thursday.

The two teens were well-liked by classmates.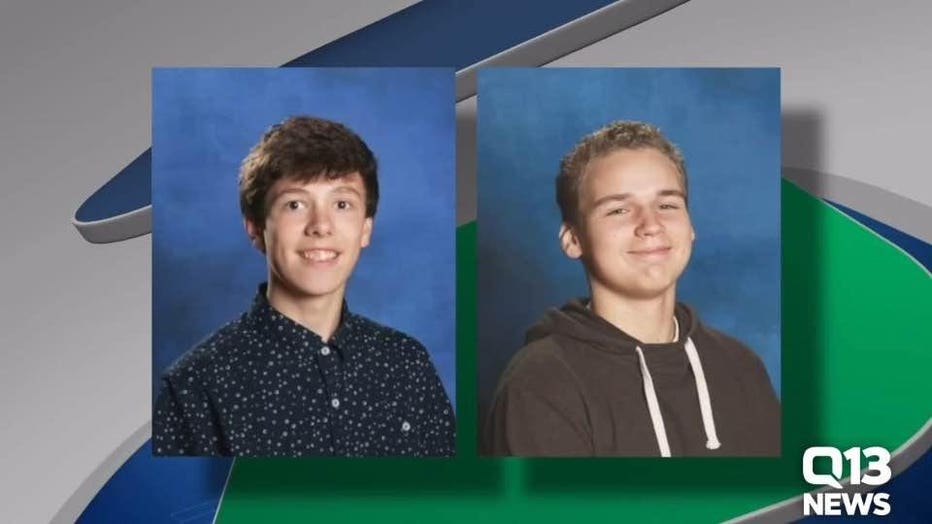 "He was super loving, sweet, his personality, if he stepped in a room, it would just make everyone laugh, he was super funny," said Hamby, talking about Oatridge.

"Kyle was around all the time. James was in my Spanish class -- we got sent to the office together a couple of times for getting in trouble. I saw them both daily, and now it's different that they're gone, I'll never see them in the halls again," said Rutz.

Classes were cancelled Monday at Peninsula High School, but students stopped by the school to lay flowers around a large rock decorated with rest in peace messages for the teens. The district also brought in therapy dogs and counselors to help ease the pain of this community. On Monday night, Young Life leaders in the community hosted a vigil for the teens and gave students in Gig Harbor an opportunity to come together and grieve.

"Everybody really feels the loss. It's an opportunity to be together. Gig Harbor is a small town and it certainly feels like it on nights like this," said John Burleigh, a committee leader for Young Life.

Mortality became the lesson this week. Burleigh says parents can help their students simply by being there.

"Certainly, presence is the biggest thing, I think. I have young kids, presence is a lot of it. Talking to some of the kids, we just realize that there is no replacement for presence. We tell them it's OK to mourn, it's OK to be sad and remember the lives that we lost," said Burleigh.

As candles lit the room Monday night, students say the light that Kyle and James brought to their lives will live on in the students.

"Life can go in the blink of an eye , clearly. It's really tragic but maybe it can be a learning experience, live it up, not take things for granted," said Rutz.