Orting murder motivates 'Compton's Crew' to patrol streets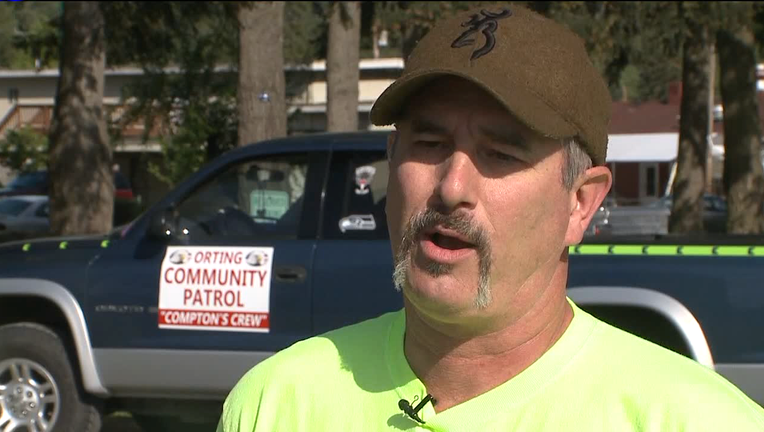 ORTING, Wash. -- Every weekend Chris Hopfauf has a mission.

"We are covering every street in Orting," Hopfauf said Friday.

He's looking for any criminal act -- and he wants all of Orting to know that he is watching.

"We drive by; if we see a crime being committed ,we will report it," Hopfauf said.

Hopfauf is the leader of the "Compton's Crew," a group born out of tragedy. In February, Mike Compton was killed during a burglary at his own home. It angered many in this small town, including the police chief who vowed to catch the suspect.

"Know this: We are coming for you!" Police Chief Bill Drake said.

The Compton murder case is still unsolved and Hopfauf says the neighborhood patrols are a tribute to this friend.

"It's affected the whole community. Mike was a great guy," Hopfauf said.

"Everyone in Orting is on high alert, they are going to be hypersensitive to anyone walking around past dark," business owner Kris Weiler said.

But not everyone thinks the patrols are helpful. Some say Compton's Crew is taking justice into their own hands.

"Their intentions are good, but when emotions are high, anything can happen. That's the worry," Orting resident Kacie Nesby said.

Nesby works with troubled teens, and she says some of her students have been targeted.

"They are saying they've been followed by someone in a vehicle and called names. The students are concerned, they are frustrated," Nesby said.

And some of the language on the crew's Facebook page is stirring concern.

One of the post states: "Those of you who don't like me or Compton's crew, we drove by your homes while you were sleeping. We will continue to do so."

"I think emotions played a little bit in that comment, sure, but by no means am I stalking anyone," Hopfauf said.

There are plenty of emotions -- but Hopfauf says his heart is in the right place. He says what he is doing is not vigilante justice.

"No, we don't pack weapons. Some people think vigilante is a good word; I don't," said Hopfauf.

He says his group is not targeting teens or any other group. They also have strict rules not to confront people in any situation.

Orting's police chief says he is aware of the patrols and they are not investigating any cases of stalking or profiling by Compton's Crew.