Orcas: A species on the brink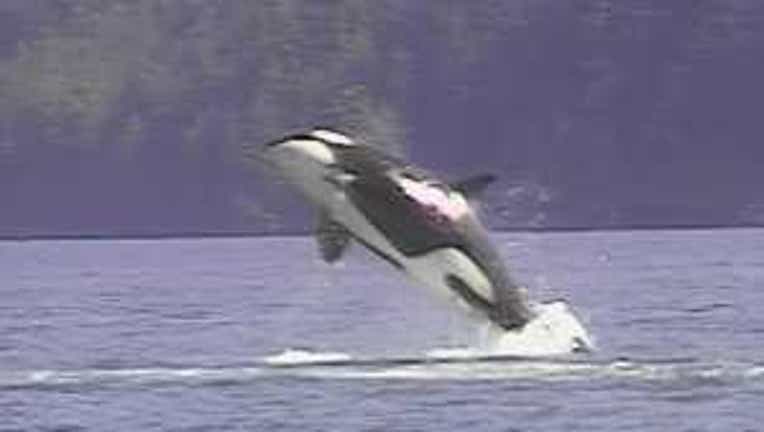 article
SEATTLE -- The federal government said Monday it will review the Endangered Species Act status of killer whales in the region as the result of an Endangered Species Act delisting petition by a California-based group and two California farmers. This comes as it appears the government is failing to do enough to protect the orcas.

For instance, on patrol with Washington state Fish and Wildlife officers off of San Juan Island, whale-watching boats appear to get too close to the orcas.



The officers say that because of budget cuts, they don't have the resources to enforce regulations that protected the endangered Southern Resident killer whales.

"Obviously, things are going to happen when we`re not around," Zach Gaston of Fish and Wildlife said. "And if people know that we`re not out, they`re more inclined to bend the rules in their favor."

In 1995, researchers counted 98 Southern Resident orcas. Now, there are only 85.

"We aren't 50 years away from the problem," said Mark Anderson, founder of Orca Relief, an organization fighting to save the killer whales.  "The problem is happening right now."

Anderson said the country is at risk of losing them forever.

"Could it happen?  That's the wrong question. Is it happening? It's happening right now.  Can we stop it? Maybe," Anderson said.

Government scientists say killer whales in the Pacific Northwest face three important threats: A decline in Chinook salmon, their primary food source; pollution; and the deafening underwater noise of pleasure boats and commercial whale-watching boats, which pursue the orcas all summer.

Research clearly shows that boat engines interfere with the whales' ability to communicate and feed.

Jim Nollman has been contracted by the Navy to study whale communication. "It's as if you were about to go to your garden, and find something to eat, and somebody had a spotlight in your face," Nollman said of the engine noise.

Scientists say the noise from boat props is even more disruptive to the whales, because whales use clicks, whistles and calls to find food.

The responsibility for protecting the orcas falls squarely on the National Oceanic and Atmospheric Administration, or NOAA.

Told that his agency is failing to protect the orcas, NOAA spokesman Brian Gorman said, "We're certainly not failing. These animals are fully protected."

They protected, NOAA said, by laws that were changed this year.  Under the law everyone in the water must stay 200 yards away from orcas; it had been 100 yards before. And boaters in the direct path of a whale must stay 400 yards away.

Activists fighting to save the whales call that a joke.

"You've got to remember these whales can hear things 20 miles away, could be 100 miles away," Anderson said. "So if you move it (restriction) from 100 meters to 200 meters, you`re still running at it (the whale) at 40 knots with twin Mercs on the back, doesn't matter."

And, Anderson said, even those rules aren't being enforced.

NOAA rarely has crews on the water running whale patrols.

But the agency reports it's paying the state to do it, which is partially true. In 2011, NOAA paid the Washington Department of Fish and Wildlife $47,000 to run enforcement patrols.  But this year, it only paid $6,600.

In 2008 and 2010, there was zero money paid to the state.

State wildlife officers are also responsible for enforcing commercial, tribal and recreational fishing laws. Without those federal dollars, they can`t spend time cracking down on boaters threatening the whales.

"Based on other things going on in the area, it`s very difficult to focus your time solely on marine mammal protection, Southern Resident orca whale protection,  without having that dedicated funding source and those dedicated hours," Gaston said.

The multimillion-dollar whale watch industry isn`t shy about pushing the limits, getting their boats as close as possible to the orcas to give paying customers a good show.

Some head into Canadian waters where regulations allow the boats to get closer to the killer whales.

"The presence of an enforcement boat radically changes the behavior of the commercial whale watch operators," Anderson said.

"I think we`d like to do more," NOAA's Gorman said.  "I mean, theoretically. it would great if we had an enforcement officer of some kind every 300 or 400 yards on a busy weekend, but that`s not practical."

What is practical?

"What is practical is what we`re doing right now -- partnering with the Washington state Department of Fish and Wildlife (and) partnering the Coast Guard to enforce the law by fining people, by citing them and fining them," Gorman said.

The reality is that very few fines are being handed out. This year, the Washington Department of Fish and Wildlife issued a total of six citations. There have been only 17 written since 2008.

The fine for getting too close to the whales had been $1,025, but it was reduced this past summer to just $87.

"If more and more is shown that noise is the problem, then we ought to take stronger steps to ensure noise doesn`t do all the damage it`s apparently doing," said former Environmental Protection Agency chief Bill Ruckelshaus.

Gov. Chris Gregoire named Ruckelshaus as chairman of the Leadership Council of the Puget Sound Partnership – a community effort to restore and protect the Sound.

"Orcas are magnificent beasts and we`re the ones who are going to cause either their demise as a species or flourish in health," Gregoire said. "So it`s up to us to apply our intelligence in such a way that the species has the chance of surviving. And to me it`s unconscionable that we wouldn't do that.'

A few weeks ago, the Washington Department of Fish and Wildlife applied for a $1 million federal grant that would be spread over three years for orca protection patrols. It could be May or June until it's known if that's approved. But in the current tight budget environment, the chances appear slim.

Meanwhile, environmentalists had been pushing to sharply limit whale-watching operations to help the orca population recover. That generated too much opposition from whale-watch operators and the tourism industry in the islands.  They said it would put jobs at risk.

So, now they`ve come up with a plan that protects the whales without threatening the industry. It's what's called a "no-go zone" – a small area off the west side of San Juan Island, where the whales swim, feed and breed.