Orca mother carries dead calf for 17th day as it's 'starting to come apart'
FRIDAY HARBOR, Wash. -- An orca mother continues to hold on to her dead calf, even as its carcass decomposes on top of her.

Ken Balcomb with the Center for Whale Research said the southern resident orca J35 was spotted Thursday in the Strait of Juan de Fuca off the south shore of Vancouver Island. She was still holding her dead calf, marking day 17 of her "tour of grief."

The baby is starting to fall apart, Balcomb said.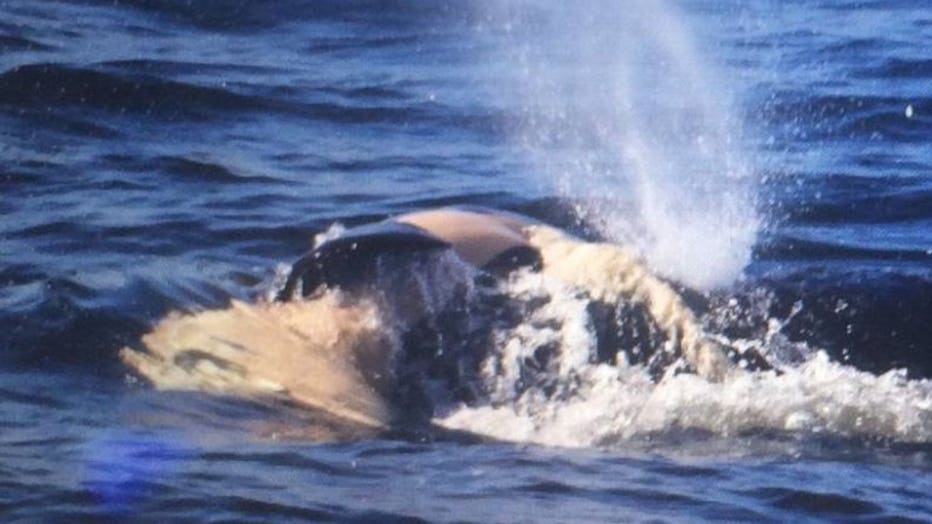 From the Center for Whale Research.
This photo will probably require a little interpretation: the spray of water and exhalation is coming from the top of J35's head, and the white tube-like structure draped over the foreground side of her head is the baby's intestine. The white blob seen underwater is what remains of the skin and blubber surrounding the baby's head. -- Ken Balcomb.

Balcomb speculates J35 will drop her baby soon, after carrying it for more than 1,000 miles. He called the latest updates "macabre."

J35 was first spotted July 24 carrying the calf on her nose and in her mouth. The calf was only seen alive briefly. By the time biologists from the Center for Whale Research arrived at her side, the calf was dead.

The last time a southern resident birthed a calf that lived more than a few months was L123 in November, 2015.


J50 spotted

J50, the starving 3-year-old orca, was spotted alongside the J Pod Thursday.

NOAA and Fisheries and Oceans Canada hope to gather samples and administer antibiotics to the sick and starving orca. They hope to do so before inclement weather rolls in.

"Tracking the animals in close proximity is challenging," Hanson said, mentioning breath sampling is nearly impossible in bad weather.

J50 and the pod was seen around Race Rocks in the Strait. Researchers will first perform a health assessment on J50 before deciding whether or not to administer any medication.


This story is breaking and will be updated as more information becomes available.