Oprah to brew new tea flavor for Starbucks
SEATTLE – Oprah Winfrey was in Seattle Wednesday announcing her own blend of chai tea to be sold at Starbucks and Tevana stores beginning April 29th.
CEO Howard Schultz surprised Starbucks shareholders at the annual meeting at Key Arena as he introduced Winfrey on stage.
"I looove tea!" posted Winfrey moments later on her Instagram account.  "It's a daily ritual and vital part of my morning. Chai is a favorite of mine."
Winfrey said she personally developed the tea with Teavana's leading teaologist Naoko Tsunoda. The distinctive blend of tea reportedly features a bold infusion of cinnamon, ginger, cardamom and cloves, blended with loose-leaf black tea and rooibos.  It will be made available to customers in time for Mother's Day in the U.S. and Canada in handcrafted latte and loose-leaf tea formats.
Winfrey said she jumped at the offer from Schultz to create her own blend and help support youth education at the same time.
"We are building a performance driven company through the lens of humanity," said Schultz.  "With the introduction of Teavana Oprah Chai, we are going to elevate the tea experience in the same way we did for coffee."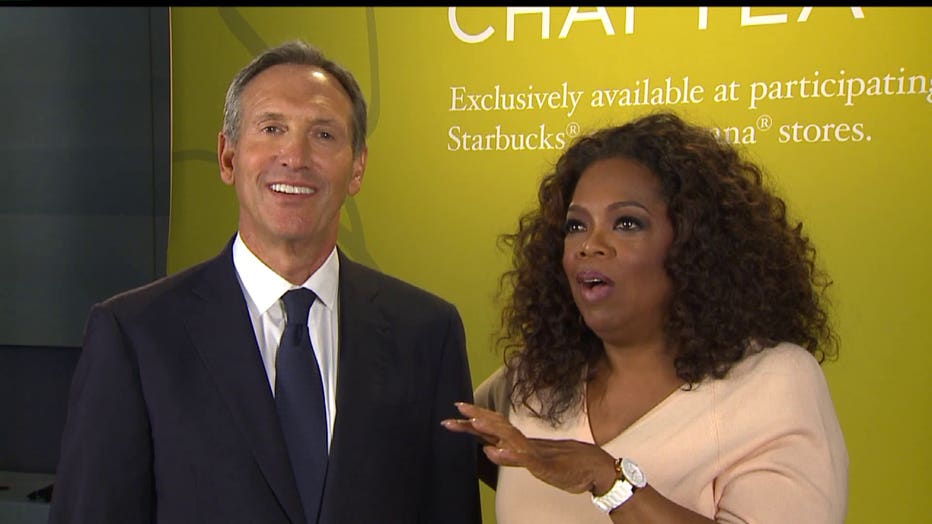 Starbucks CEO Howard Schultz and Oprah Winfrey appear together to announce Winfrey's tea blend to be sold at Starbucks. (KCPQ-TV)
Contributions from sales of Oprah Chai products will go to the Oprah Winfrey Leadership Academy Foundation, the Oprah Winfrey Leadership Academy for Girls, Girls Inc., National CARES Mentoring Movement, Pathways to College and the U.S. Dream Academy.
One of the groups featured in a collage of photos posted by Oprah on her Facebook page is the U.S. Dream Academy.  The national afterschool mentoring and mentoring program helps thousands of at risk kids each year with a focus on children with parents who are incarcerated.