Only Death Valley will be hotter than parts of Washington state today


SEATTLE -- It's going to be so hot east of the Cascades on Wednesday that only Death Valley will be hotter.

The National Weather Service issued an excessive heat warning for Eastern Washington with places like the Tri-Cities and Walla Walla topping out near 110 Wednesday and Thursday.

This could actually be the hottest spot in the U.S. -- topping even Phoenix and Las Vegas.  Only Death Valley is expected to be hotter.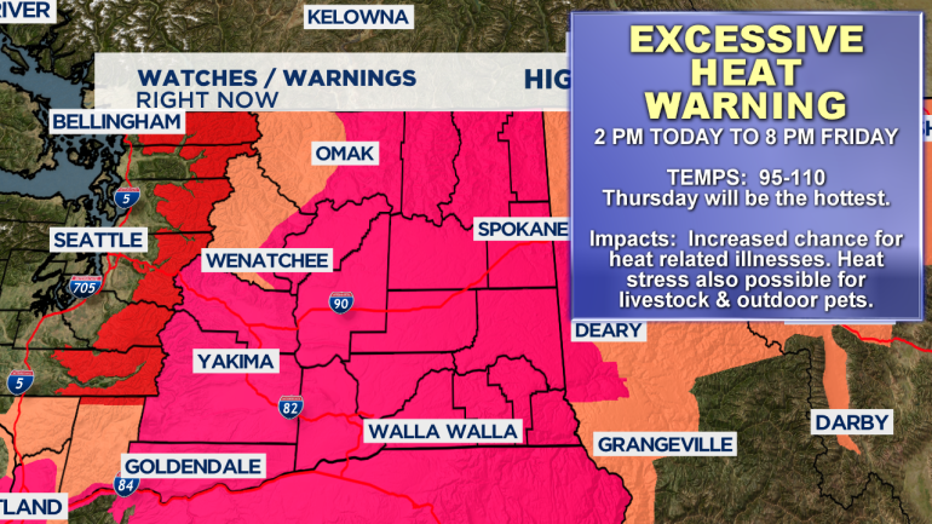 What about Western Washington?

HOT with hazy sunshine today and tomorrow.  Highs will be around 92 for Seattle again, like Monday.

Olympia could hit 96 degrees.  Smoke from fires is still making our skies a hazy gray, but air quality remains mainly good in Western Washington (green dots on map below).

A red flag warning was issued for much of the Cascades indicating high fire danger.

Friday, a strong Marine Push will bring clouds all the way into Western Washington and we'll cool off to the 70s.  There is also a chance of showers late Friday into Saturday.