One person dead in downtown Everett apartment building fire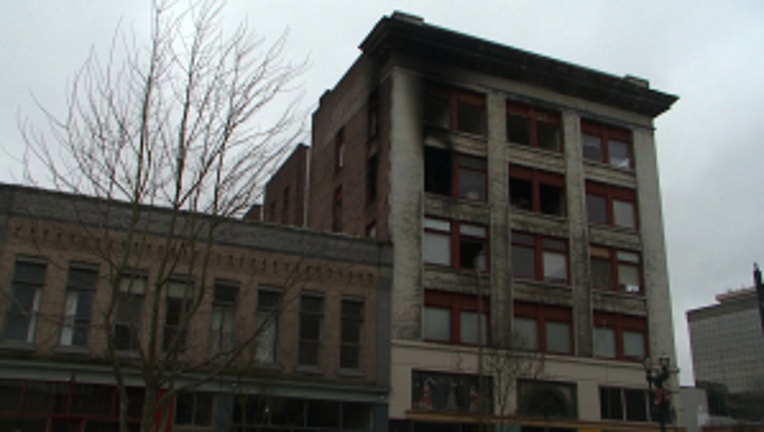 EVERETT -- The first 911 calls came in at 6:40 Sunday morning.

"Fire alarms went off and people beaten on the doors, yelling to get out it's burning.  My son and I just got up and ran out of the building," victim Clifford Collier said.

A fire at the historic Hodges Apartment building at the corner of Rockefeller and Hewitt.

"I got woke up by my roommate yelling Dave there's a fire on the 4th floor Get up," victim David Sours said.

When fire fighters arrived tenants were running out of the building and the fire was getting worse.

"When they arrived they saw flames coming out the windows so they ultimately escalated to a two alarm fire," Everett Police spokesman Aaron Snell said.

When the fire was out investigators discovered the body of a woman, according to neighbors, inside the apartment where the fire started.

"Because of that arson detectives have been called to the scene and they are investigating. They are talking to witnesses as well as looking at the building itself trying to determine the cause of the fire," Snell said.

Neighbors say the victim is in her late 40s to early 50s.

"Her and her boyfriend been fighting for the last four or five days. It's just been crazy, things being thrown around up there and hollering and screaming," Collier said.

Everett police say they questioned the woman's boyfriend, but he wasn't detained.

Neighbors say he tried to put the fire out, but it proved to be a losing battle.

"He had a fire extinguisher in his hand… he tried to push that door open, put the fire extinguisher in there for about two seconds and I guess he seen it was too much out of control and I ran back downstairs," Sours said.

While some units were damaged by fire, others were damaged by water, few were untouched.

Some 36 people homeless.

Most left with little more than the clothes on their back.

"Couple of personal items, cell phones and money and maybe a jacket and stuff like that.  Just a bag of stuff," victim's sister Holly Wilton said.

"We all paid our rent.  It's how many days before Christmas; all of us went and bought Christmas presents.  Nobodys got any money to relocate. Nobody," Sours said.

Fortunately the American Red Cross arrived quickly and are prepared to provide as much help as needed.

"There will be a shelter for them for whatever they need for overnight and future services so everyone will have a place to go tonight," American Red Cross spokesman Andy Hamack said.

Residents say the owner of the building also owned another apartment building half a block away.

It was destroyed by fire November 2012.

One person died in that fire and 40 were left homeless.

Investigators still don't know how this latest fire started.