One person dead, all lanes of I-5 north blocked in early morning tragedy
SEATTLE -- At least one person was dead and all lanes of northbound I-5 near Northgate were blocked Friday morning after police said someone jumped off an overpass into traffic.

MORE:  Check the Q13 FOX News Traffic Map to see how your commute is impacted

According to the Seattle Police Department, both the Washington State Patrol and Seattle police received multiple calls of collisions around 6 a.m. after a person allegedly jumped from the NE 92nd Street overpass to I-5.

The adult woman who jumped was killed instantly, police said. No motorists were injured, but one car sustained minor damage in the collision.

Troopers shut down northbound I-5 for hours following the incident, causing a long traffic backup. The investigation was complicated by the fact that the collision site spanned about 100 yards, police said.

All lanes were opened around 8 a.m.

A second accident near Mountlake Terrace blocked several lanes of southbound I-5 near SR 104 resulting in additional lengthy backups.

WSDOT was recommending drivers use Highway 99 or city streets as an alternate during the accident.

The King County Medical Examiner's office is still investigating the alleged suicide.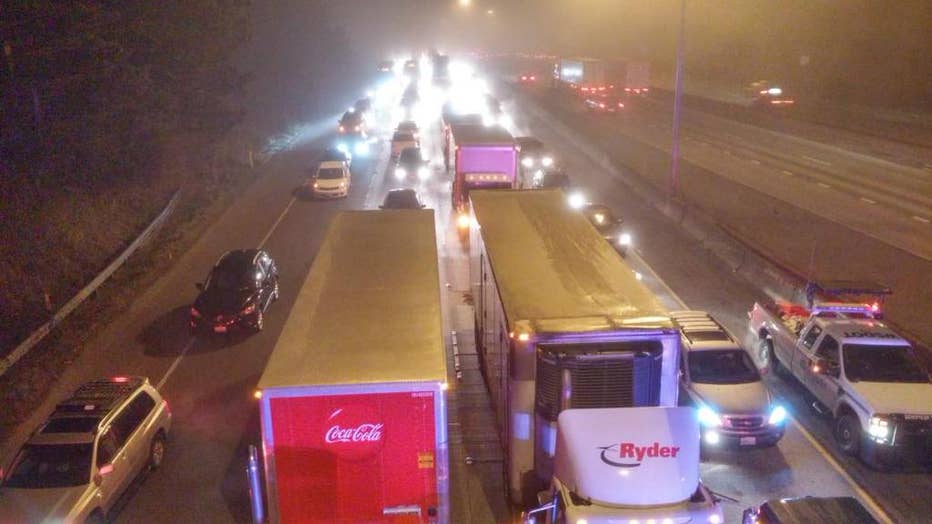 Courtesy Andrew Wergeland Ram