One mom's warning for parents: Classroom tool caused my son's seizures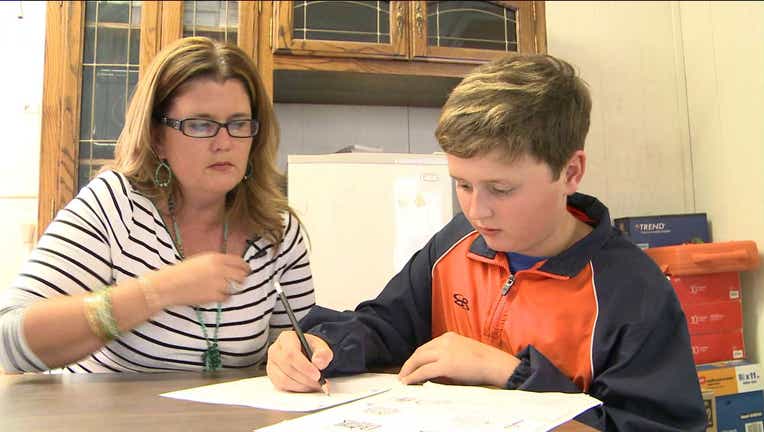 NEW KENT COUNTY, Virginia (WTVR) -- A Virgina mother says the electronic whiteboard in her child's classroom is giving her son seizures.

"Promethean" or smart boards — are the latest in classroom technology, in effect a modern-day chalkboard.

Holly Miller-Bopp said the new display has been a painful lesson for her 12-year-old son, Jacob.

"He's been having headaches and seeing dots," said Miller-Bopp. "He's at risk everyday he goes to school by looking at those boards."

Miller-Bopp contacted WTVR-TV after learning that her son was suffering from a condition caused while in class at New Kent Middle school in New Kent County Virgina.

"The more prolonged that he looks at them, the worse they get," Miller-Bopp explained. "It's scary not knowing what could happen to your child if they could have a seizure at any moment."

The worried mother said that trips to the eye doctor and pediatrician did not reveal anything abnormal. However, when she took Jacob to a neurologist the mystery was finally solved.

That doctor said Jacob suffers from Stimulus Evoked Epilepsy, or seizure-related symptoms from the light and vibrations from the Promethean boards.

As a result, Miller-Bopp alerted the New Kent County school system, which is currently looking into her report.

While New Kent County Public Schools Superintendent Dr. David Myers could not comment specifically on Miller-Bopp's case, he said he is asking questions about the boards.

"I've been working with them for almost 10 years in schools all throughout the region here and this is the first I've heard this concern," Myers said.

After what happened to Jacob, Miller-Bopp is working to let other parents know about the risks.

"It's definitely concerning as a parent to hear about any sickness or illness within children. It's something I will continue to monitor at home on a regular basis," Jennifer Fox said.

Dr. Lawrence Morton, a child neurologist at Children's Hospital of Richmond at VCU, said that there is no connection between smart boards and seizures "in non-predisposed population."

However, Morton pointed out that children with a history of seizures could develop symptoms.

"It can sometimes be a specific trigger such as a sensation or it can be visual. Sound and a sensation on the skin," explained Morton.

If your child complains of headaches after school, Morton offered this warning.

"It may not be every time they see it within seconds. But rather what is the duration of the exposure because then it can just be that their usual system is working in a different way — and it can be a fatigue factor," Morton said.

But New Kent County is not the only area school district that uses these boards.

School leaders in Richmond, Henrico and Chesterfield said the smart boards have been in place for several years. The cost ranges from $1,200 to $3,800 per board.