On the phone or texting while driving? Police crackdown gets under way


SEATTLE -- A nationwide crackdown on distracted driving started Thursday, and police across our state are taking part, hoping to prevent tragedies that are avoidable.

Melissa Brulotte's 2-year-old daughter, Anna, was killed by a distracted driver while in a crosswalk with her mother.

"That new normal is going to be always missing her and never having her around for things she should be here for," Brulotte said.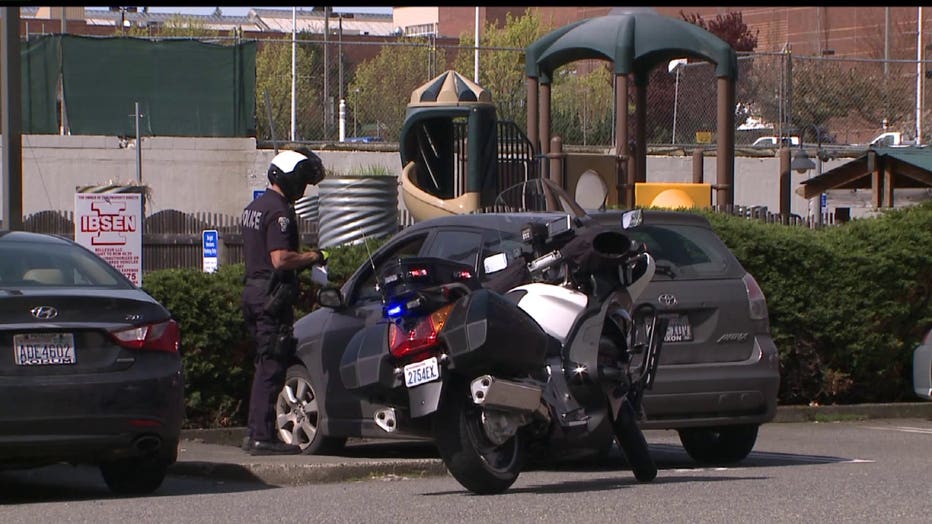 A Bellevue police officer gives a driver a ticket for distracted driving Thursday. (Photo: KCPQ-TV)


The fatal accident happened in Bellingham in 2010. But the problem of distracted driving remains.

"Just last week, there was a T-bone accident where the driver went right through the red light; they were talking on their phone and hit another vehicle," Seth Tyler of the Bellevue Police Department said Thursday.

Cell phones are often the root cause of distracted driving, Tyler said.

"We're seeing people talking on their phones and texting way too often out here," Tyler said.

In fact, during lunch hour in Bellevue, it took Tyler an average of two minutes to spot someone driving and using their phone.

"That's really easy for us to spot, especially being on a motorcycle, is the eyes are looking down, they`re not looking up at the road where they should be," Tyler said.

A recent University of Washington study found one in 10 uses phones while driving.

"About as dangerous as a driver who has a blood-alcohol level of .08," said Annie Kirk of the King County Traffic Safety Task Force. "Now, for somebody who's texting, it's even more dangerous."

The federal government is launching a nationwide ad showing the dangers of texting and driving.

One driver caught on the phone while driving got a $124 ticket.

The campaign to catch distracted drivers lasts through next week.

The slogan is, "You drive, you text, you pay."