Olympia clearing homeless camp to build mitigation site downtown


OLYMPIA, Wash. – City officials in Olympia are trying a new approach at handling their growing homeless population.

In recent months, those experiencing homelessness in downtown Olympia has grown by 10 times. Officials there are hoping to help bring structure to a population who eventually could be funneled into affordable housing.

"As we've seen tents go from 30 to 300 a couple weeks ago, the city has decided we really want to do something to mitigate this issue," said Colin DeForrest.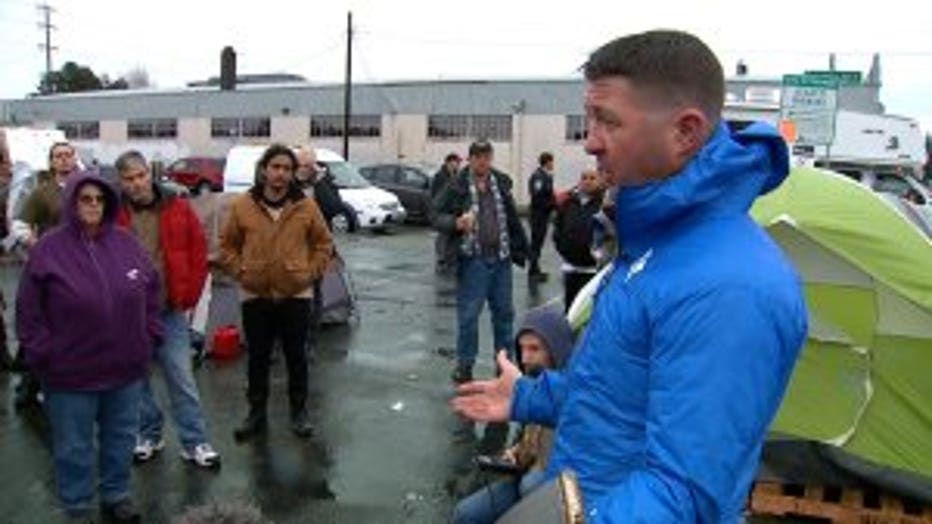 DeForrest works for the City of Olympia to help bring services to a swelling homeless population.

"We're giving you one week to move off this site temporarily while we set up our mitigation site," he said Monday to homeless campers.

The parking lot at Olympia and Franklin Streets is just one of three public spaces currently housing sanctioned tent cities in Olympia.

"It's just grown out of control," said DeForrest.

Deforrest used to work on the homeless problem for the City of Tacoma – but now thanks to a $100,000 grant from a local church, his new job with Olympia is to try to move people out of tents and into stable housing.

"To really mitigate the human suffering and the health concerns that are down here," he said.

Volunteers counted more than 300 people experiencing homelessness during Olympia's point-in-time count, and now the tents are hard to miss across the city's core.

Once the lot is cleared, DeForrest says, the city will install fencing and provide running water, and about 80 new tents will replace what's here now.

"We're already scrambling with the city to identify what other temp areas are we going to allow people to go," said DeForrest.

Some who are living on the streets believe the plan could help move more people into social services.

Others worry the city's plan to build a mitigation site will push a vulnerable population out into more areas downtown.

But what seems clear, according to DeForrest, is that doing nothing will likely mean more people living in unsafe conditions without any access to human services.

"As we set this site up, there's going to be missteps, and to me I already know that going in, but can we be adjustable to what those missteps are for the community and those living in tents," he said.

The new mitigation site will include an on-site host, plus garbage collection and running water. it could be up and running in a couple of weeks.