Officials: Additional victims found today at landslide site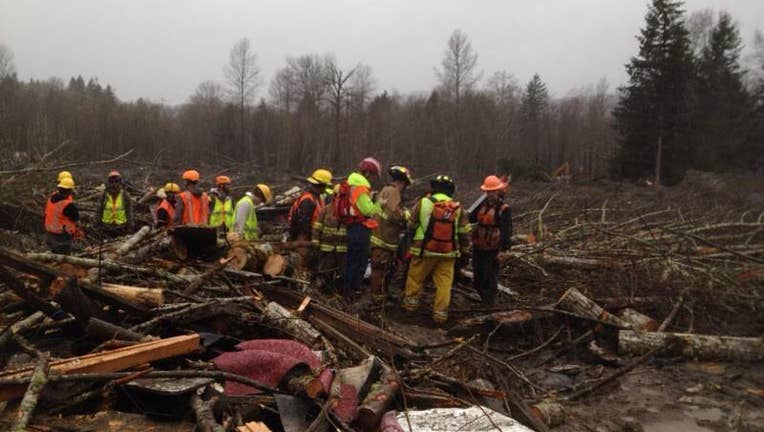 article


ARLINGTON -- The Snohomish County Sheriff's Office said Tuesday that "additional slide victims have been found at the landslide site off of SR 530 earlier today."

But the number of victims has not yet been confirmed, the office said.

A news conference was expected to be held at about 6:30 p.m., at which new numbers were expected to be released.

The number of confirmed dead was listed as 14 on Monday afternoon.

Snohomish County officials still had 176 "soft" reports of people missing, but the director of the county's emergency management division, John Pennington, said that number should come down as officials planned to release a "reconciled" list later Tuesday afternoon.

"This number will change by the end of the day," Pennington said.

Numbers and some good news

Pennington, Snohomish County Fire District 21 Chief Travis Hots, Snohomish County Public Works Director Steven Thompson and others on the slide incident management team reiterated that Tuesday's operations would remain both a "rescue and recovery" mission. Tuesday's search teams were the biggest yet, with more than 150 individuals out in the field, officials said.

The teams included members of county, state and federal crews; employing searchers from the Federal Emergency Management Administration, Washington's National Guard teams, State and local search and rescue teams and individuals from the Darrington community who possessed an intimate knowledge of the land near the slide.

Chief Hots said the outpouring of support and volunteers from the community was tremendous, but that officials had more than enough workers on the ground, and could not accept anymore volunteers. He encouraged area residents to stay away from the slide area as they could hinder trained search and rescue teams.

"The last thing we want to have happen is people sneak up there and climb up on the pile," Hots said. "If we have citizens going out there on their own... they are putting themselves in extreme danger."

Increasing rains were also expected to hamper rescue workers, but officials said they would monitor the ground closely to make sure over-saturation would not cause another slide.

Public works director Thompson said the Stillaguamish River, cutting a path through the slide, was expected to rise about three to four feet with the rainfall.

In a spat of good news for the embattled town of Darrington, Thompson said a secondary access road -- Mountain Loop Highway -- was cleared of snow and would be ready to travel by the end of the day. Some of the road was covered in gravel and treacherous driving, but operates as a nice secondary road to the town residents who saw their primary transportation route cut off by the slide.

Officials also thanked Frontier Communications for helping restore internet, phone and 911 capabilities to most homes in Darrington, as the small town was gradually coming back to life after the slide.

A question of warning? 

As search and rescue crews entered their fourth day of activity, members of the media pointed questions squarely at Snohomish County's Emergency Management Director, questioning if he had done enough to warn Oso residents of a potential catastrophic slide. Pennington fired back patiently, saying his department had done all it could to warn homeowners all over the county, especially after two months of nearly record rainfall.

"The homeowners in this community were very aware of the slide potential," Pennington said. "Message after message after message went out that there is a high risk of landslides."

Pennington initially suggested that a magnitude 1.1 earthquake on March 10 with an epicenter 100 yards behind the slide may have spurred movement, but has since backed off that statement.

"There's a reason we have a high success rate of mitigating disasters in this county," Pennington said. "This is just one that hit us."

Pennington and Hots reiterated that a time to "ask why" was later. Now, officials needed to focus all their efforts on recovery,and help bring solace to a wounded community.

"To me, this is more rescue than recovery," Hots said.