Official compares mudslide devastation to Mt. St. Helens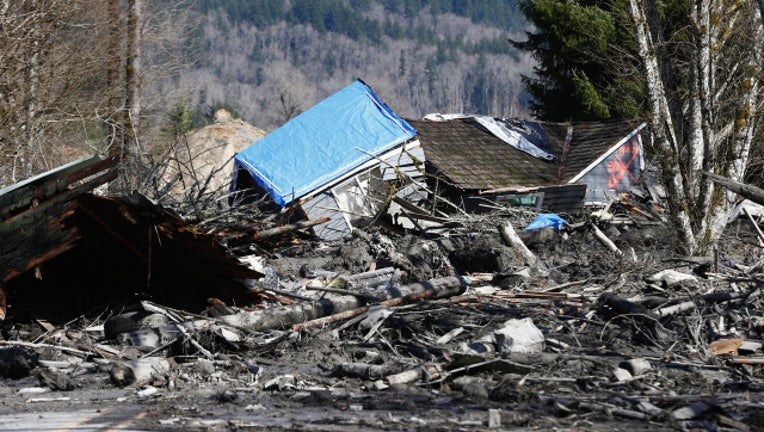 article


ARLINGTON -- In the slide area the images are jaw dropping, absolutely amazing and the closer you get the more destruction you see.

It all happened in just a matter of minutes Saturday morning when the hillside gave way.

"The hillside came down and pushed it all the way across the road so from the air there is a gigantic lake over here because the river has come over here and what you're seeing is it's draining off here going back to the river bed," Snohomish County Sheriff Ty Trenary said.

One of the victims, according to the Everett Herald is retired Darrington librarian and longtime school board member Linda McPherson.

She was killed when the slide destroyed her home.

And among the missing, Tom and Marcy Satterlee, according to relatives.



For the first time today search and rescue crews were finally able to get into the one square mile debris field to look for survivors.

"We're all in a very active rescue mode. We have tactical rescue crews from the Fire Department on both sides of the slide working through trying to find people that need to be rescued. We're using helicopters from above to try and identify heat signatures," Sheriff Trenary said.

"Keep in mind we have a road that is buried in a mile of this muck.  There may be people that are in their cars.  There may be people in houses so we're trying to track that down the very best we can," Snohomish County Fire District 21/22 Chief Travis Hot said.

Governor Jay Inslee, Congresswoman Susan DelBene and Snohomish County Executive John Lovick toured the affected area by helicopter this afternoon and saw the destruction first hand.

"I went to Mount St. Helens 34 years ago when it erupted and this devastation in that area reminds me very much of the devastation I saw," Snohomish County Executive John Lovick said.

Along with search and rescue a top priority is getting SR-530 back open.

"530 right now is inundated with water and flood debris probably 10, 15 feet deep.  There's about a mile of it that's out of commission," Snohomish County Public Works Director Steve Thompson said.

"For folks in Darrington we can report that we believe we will be successful in opening the Scenic Loop highway using road 20 hopefully, hopefully in a matter of days rather than weeks," Governor Jay Inslee said.

The scenic loop or mountain loop highway closes most years due to heavy snowfall.

Getting it open could take three or four days.

Then there is the Stillaguamish River.

It was dammed off by the slide.

Upstream it had been backing up and pooling.

There have been fears of flooding, but there is reason to be optimistic.

The Stilly, as it is known, has made its way through the slide debris and is carving out a new channel.

"That's what we expected it to do and it slowly start carving out a new channel, working its way back upstream and we'll be watching that on a daily basis to track progress but there is now more water flowing down stream  but it's coming in slow. That's good news," Thompson said.

FEMA is now on board and if anyone needs to ask questions or get new information they can call the Snohomish County Call Center at 425.388.5088.