5 fires intentionally set in Seattle's Central District, suspect arrested
SEATTLE - Seattle Police have arrested a suspect they say set several fires around the Central District neighborhood on Monday night. 
According to the Seattle Fire Department, five fires were set in the neighborhood within a span of an hour. 
600 block of 37th Ave.

3400 block of E. Terrace St.

500 block of 31st Ave. (two residences on this block)

500 block of 30th Ave.
Seattle Police tweeted that they had arrested a person suspected in setting these fires just after 9 p.m.
SPD's arson and bomb squad are heading to the scenes to investigate each fire.  
Seattle Fire said it does not appear that there were any injuries or significant damage.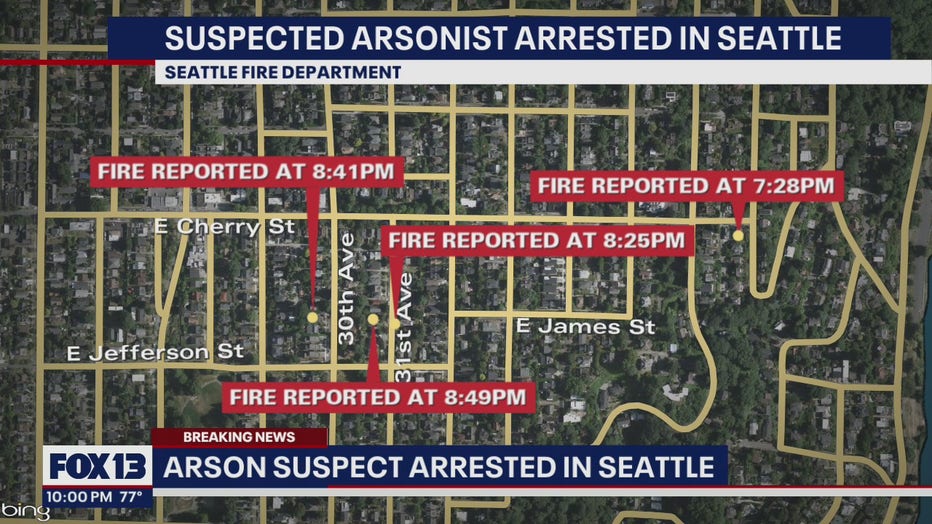 FOX 13 News obtained home surveillance video of police arresting the suspect.
"For some reason, she felt like he was coming this way, and she was right. He was coming exactly this way," said Donald King.
King said he got a call from his neighbor about the fires in his community. A few minutes later, police were swarming his front yard arresting the suspect.
On Tuesday, the suspect, who FOX 13 News is not naming because they are not officially charged yet, appeared in court.
Officials with the King County Prosecuting Attorney's Office tell us they were looking to charge the man accused of the crimes, with five arsons. However, a judge decided there was probable cause to only charge the suspect with two arsons.
"We feel really fortunate. If it had been the middle of the night, or some other time, it could have been a real tragedy," said Daniel Becker.
One of the arson fires damaged Becker's home. He says he was in his kitchen when he saw the flames in his backyard.
"It went from the cushions being on fire, to the whole roof of the back deck being on fire," said Becker. 
He says he and his wife tried to put out the flames, but luckily, firefighters arrived.
"If they hadn't of been there, I don't know what would happen," he said.
Seattle Police numbers show 90 reported arsons so far this year.
Numbers show a 33% increase in arson in Seattle between 2021 (225 reported arsons) and 2020 (169 reported arsons). 
The Seattle fires and subsequent arrest come after five fires were intentionally set in Kent earlier in the day. . 
The fires happened near Southeast 240th Street between 104th and 106th avenues Southeast, in the East Hill neighborhood.
A suspect has not been arrested in the Kent arsons.
In light of both of these arsons, the Seattle Fire Department released some tips to reduce the chances of losing your home or business to arson: 
OUTSIDE:
Secure home, garage areas and businesses by locking doors and windows.

Clean up wastepaper, grasses, weeds, litter, or anything that can burn from around buildings. Clear carport areas of all combustibles.

Locate dumpsters, recycle bins and yard waste containers at least five feet away from walls and roof eave lines. If possible, keep them in a secured area. Do not allow them to become overfilled.

Place locks on commercial dumpsters or keep in secured area. Locks may be available through your contracted service provider. Use only metal or metal-lined receptacles.

Residential customers can call Seattle Public Utilities at (206) 684-7665 to arrange for delivery and installation of locks for recycling and garbage containers.

Trim shrubbery from doors and windows to improve visibility.

Install motion-sensor exterior lights or consider leaving lights on.

Secure gas grills or disconnect the propane tank and place it inside your garage.
INSIDE:
For businesses, check fire and life safety systems, including fire extinguishers, to ensure they are working and in compliance with codes.

For homeowners, test smoke alarms to ensure they are working.

Develop and practice a fire escape plan. Be sure it includes knowing all the exits and a meeting place.

If you have a fire extinguisher, know where it is located and how to use it.

Keep exit ways clear of items which could slow evacuation efforts.