Officer shot and killed in E. Tacoma; standoff over


TACOMA, Wash. -- A suspect who shot and killed a Tacoma police officer is dead. The Pierce County Sheriff's Department says an officer fired one shot, hitting the suspect this morning. It comes after a standoff that lasted for nearly 11 hours.

"Through our tactics, we were able to determine that there were kids there and he was using them as a shield and so our guys were very, very patient to make sure that we don't want the kids to get hurt on top of everything that happened", said Detective Ed Troyer with the Pierce County Sheriff's Office.

The two children are now out of that house and are safe. Officials say no other officers were hurt.

So far the names of the suspect and officer killed have not been released.

Previous story

A police officer shot multiple times while responding to a domestic call in East Tacoma has died, Officer Loretta Cool said Wednesday night.

"We've suffered a great loss. I think the community has suffered a great loss," Cool began as she briefed the media on the officer's condition. "Everyone appreciates the kind thoughts and prayers going out to us."

"Tonight we, our community, lost a hero," Sgt. Jim Barrett said. "He made a difference in the life of those that he came in contact with."

The officer, who has not been identified, was shot by a suspect still believed to be barricaded inside a home in the 400 block of E. 52nd Street. Police say the scene remains active and the neighborhood is still on lockdown.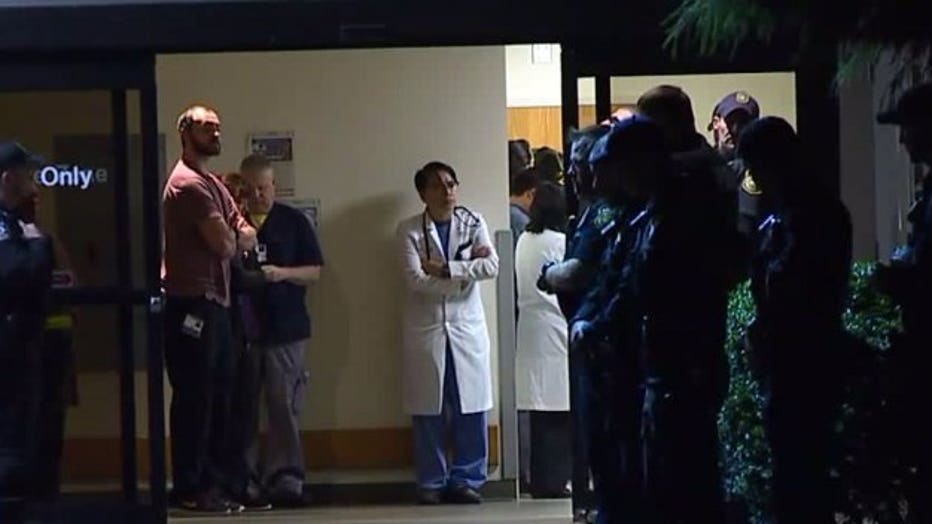 Hundreds of uniformed officers, hospital workers and citizens waited outside Tacoma General Hospital after news broke that the officer passed away. He was brought to the hospital about 7 p.m. where he underwent surgery.


The circumstances that led to the shooting were not immediately clear.

Christie Croskey told Q13 News that she is the homeowner of the house that the suspect is in.

"I moved out of the house about 7 months ago and I invited the suspect and his wife and two children to stay in the home," she said. "I was not aware of any problems in that relationship or in the home. I'm caught off guard just like everyone else."

Croskey said that the suspect is not her family, but he has attended church with them.

Governor Jay Insley issued a statement Wednesday night after news that a Tacoma police officer was shot and killed in the line of duty.

"Trudi and I send our thoughts and prayers to the family and loved ones of the Tacoma police officer killed tonight in the line of duty. All of Washington grieves with Tacoma, which tonight lost one of their finest.

"Our hearts are with the men and women of the Tacoma Police Department, their families, and their brothers and sisters in law enforcement across Washington.

"In times of crisis, we see the service and resolve of law enforcement as they run towards the danger. Tonight an officer was taken from us while serving his community, and it is a reminder of the sacrifice that these men and women across our state and nation make every day.

"We don't have all the answers from tonight's shooting, and the crime scene is still active. I urge everyone in the area to follow law enforcement's directions during this ongoing incident."

Several police agencies also took to Twitter expressing their condolences.




This breaking news story will be updated.