Obama tours devastation, vows to stand with 'Oso strong'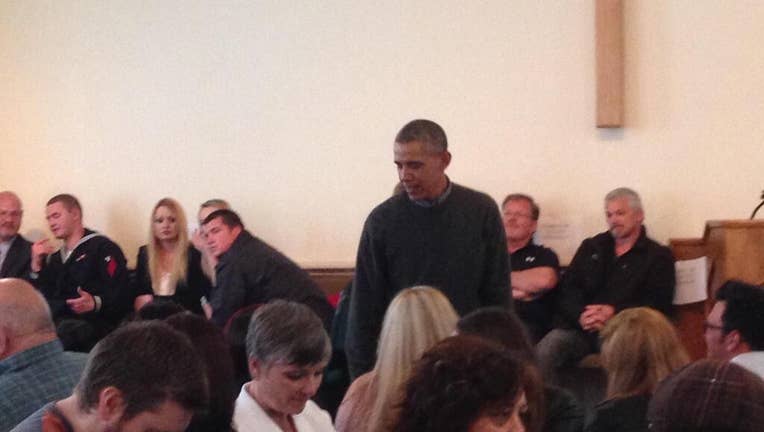 OSO, Wash. -- Whenever, wherever President Barack Obama gets off Air Force One, he brings the attention of the world with him.

That's just what is needed in Oso, in Darrington and in Arlington.

People here have been deeply affected by the March 22 mudslide that killed at least 41 of their loved ones.

The way they have come together to support one another, says Obama, should be an inspiration to us all.

"Because this is also what America's all about. When times get tough, we look out for each other. We get each other's backs and we recover and we build and we come back stronger and we're always reminded that we're greater together," Obama said.



[trib_ndn vid=25833093]

The president toured the slide zone aboard Marine One.

He saw firsthand the massive devastation and also the hundreds of volunteers who remain at work searching for two people still missing in the debris.

Obama praised those volunteers for their dedication and compassion.

"They understood that this wasn't an ordinary job, this wasn't just a matter of moving earth, that this was a matter of making sure that we were honoring and respecting the lives that had been impacted," Obama said.

After the tour, the president and his motorcade headed to the tiny town of Oso. All along the way, people lined the streets to get a closer look.

The president met privately with victims' families and first responders.

Then at the Oso fire station, he made a quick speech broadcast around the world.

Obama has already shown his support and the nation's support by issuing disaster declarations and expedited the delivery of sizable financial packages to help with the cleanup and to help families put their lives back together.

Late Tuesday, Washington state's congressional delegation announced the first FEMA public assistance payment of $7.5 million -- funding that will go to Snohomish County to help the families.

The president promised the victims' families that the nation stands ready to help as long as help is needed.

"Michelle and I grieve with you. The whole country is thinking about you. And we're going to make sure that we're there every step of the way," Obama said.