Obama praises Oso: 'We're going to be strong right alongside you'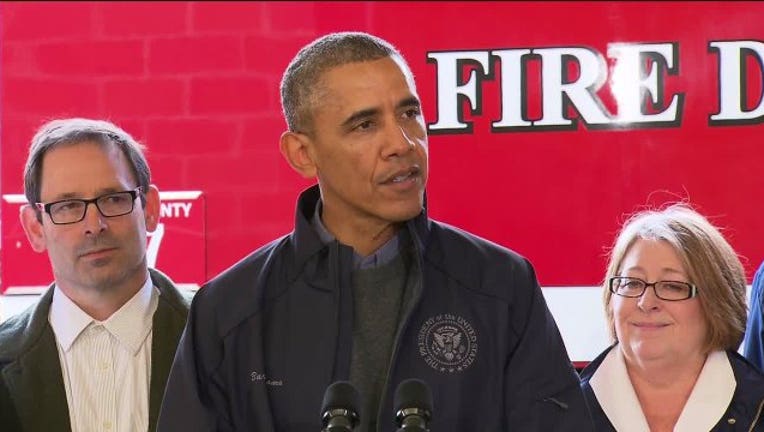 EVERETT, Wash. -- President Obama toured the devastated Oso, Wash., area Tuesday afternoon, a month after the destructive mudslide killed at least 41 people.

Gov. Jay Inslee, Sens. Maria Cantwell, D-Wash., and Patty Murray, D-Wash., and other elected officials greeted Obama shortly after he flew into Everett's Paine Field on Air Force One.  He then climbed on the Marine One helicopter to get an aerial view of the mudslide that covered more than 300 acres, burying homes and lives on March 22.



Obama landed near Oso to meet with a small number of victims' families and first responders who have worked tirelessly in the vast debris field for weeks.He met privately with families before speaking to members of the Washington Conversation Corps and FEMA Corps members in a small Oso firehouse.

There, he spoke of the unbelievable resolve of a small town in the face of such a tragedy.

"There are still families who are searching for loved ones," Obama said. "There are families who have lost everything, and it's going to be a difficult road ahead for them.  And that's why I wanted to come here -- just to let you know that the country is thinking about all of you and have been throughout this tragedy.

"We're not going anywhere.  We'll be here as long as it takes.  Because while very few Americans have ever heard of Oso before the disaster struck, we've all been inspired by the incredible way that the community has come together and shown the love and support that they have for each other in ways large and small."

Washington's congressional delegation announced later that $7.5 million more had been approved in FEMA funding for the recovery in the area.

Obama said that one resident told him, "We're Oso. We just do it.' That's what this community is all about ... I have to say that the families that I met with showed incredible strength and grace through unimaginable pain and difficulty.  Uniformly, though, they all wanted to say thank you to the first responders.  They were deeply appreciative of the efforts that everybody has made."

The president reassured the federal government's continued assistance in the slide, saying Washington's congressional delegation has been "relentless" in working for federal funding and assistance. He also spoke of the character of the small town, and how in many ways it mirrored many other American small towns.

"Michelle and I grieve with you," he said. "The whole country is thinking about you. And we're going to make sure that we're there every step of the way as we go through the grieving, the mourning, the recovery.  We're going to be strong right alongside you. "

Citizens gathered along Obama's planned route, hoping to get a glimpse at the president before he took off at Paine Field at 5 p.m.

"We're here to take pictures of the president," one Oso resident who lined the road said. "We hope to see him."



[trib_ndn vid=25832472]

 Click here for our Live Blog of the event.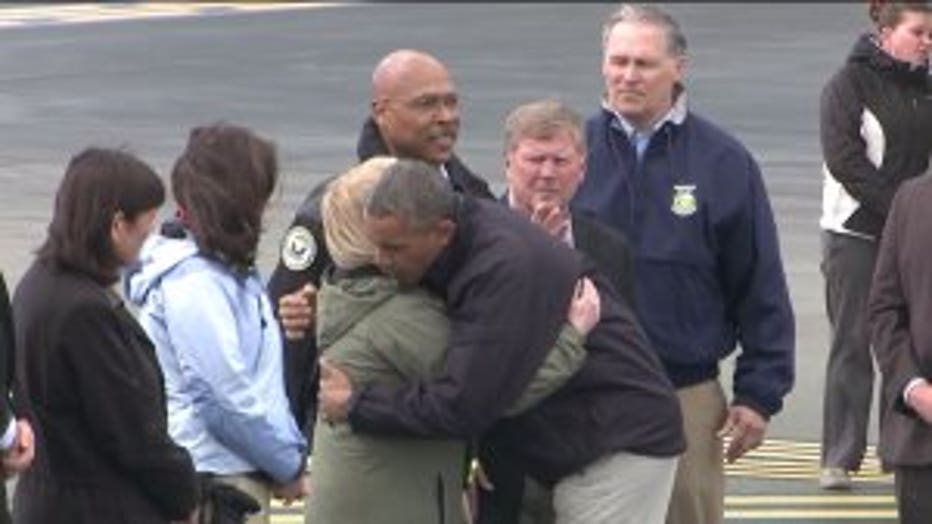 Obama hugs Sen. Patti Murray.