NW snowpack: massive improvements
SEATTLE- It's not been the best winter for travelers over Washington State mountain passes, but the snow in the mountains is great news for our ski resorts,  agricultural interests, and those that fight wildfires. Long term weather forecasts has called for an El Nino-type winter, which surprisingly has ended up dampening Puget Sound lowlands and is covering our higher elevations in tons and tons of snow.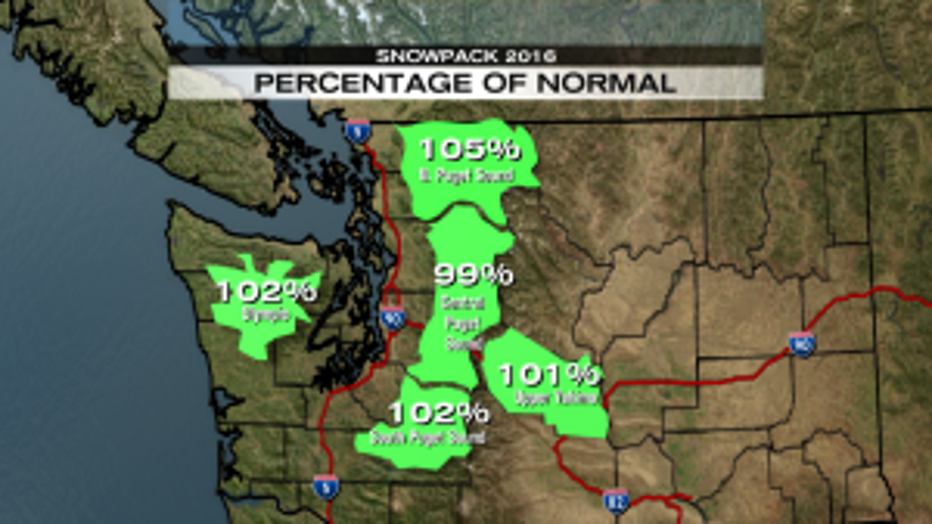 USDA numbers show WA snow pack is near normal for this part of the winter season.


Compared to an average year, almost all of the watersheds coming out of the Cascades and Olympic mountains are near normal for this part of the year. The data from the USDA shows the percentage of normal for most of the basins in Washington State are above normal for this part of the winter season. A large snowpack means several important things for the Evergreen State: an easier wildfire season, water for crops, and water for recreation- especially east of the Cascades. Well-watered vegetation, especially trees, can withstand fire threats much better.

Compared to last year, the numbers are staggeringly better. Some of the basins are hundreds and hundreds of time better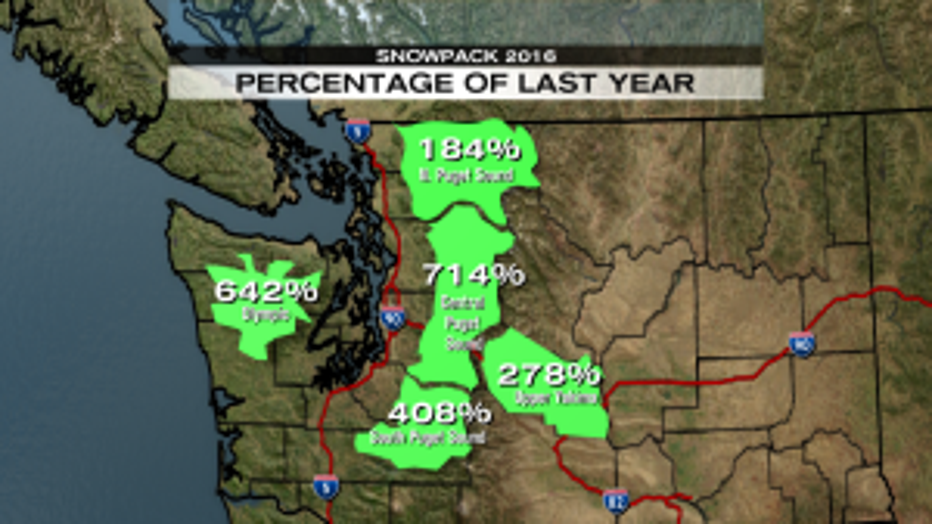 The comparison of this year versus last year is just staggering. Source: USDA


than last year. The Olympic Mountain basin is more than 600% of where we were last year. The Central Puget Sound has more than 700% of where we were last year at this time. The winter of 2014-2015 was one of the driest on record in Western Washington and considered dismal for our ski resorts, especially the lower resorts that basically did not see enough snow for a season at all. Last year's fire season burned more acres than any previous wildfire season on record.

This year the snow has caused problems for travelers. WSDOT crews have closed the passes repeatedly for avalanche control measures and spin-out accidents. The most memorable was the nearly all day Christmas Eve closure on Snoqualmie Pass which timed unfortunately with a closure due to an earlier landslide on Stevens passes sent drivers into Oregon to get through the Cascades.

 


Snowpack map for the whole West Coast looks much better than last year.


Overall the snowpack looking at all of the U.S. west of the continential divide: much better than last year. The blue and purple dots indicate snotel measuring sites reporting above normal conditions when it comes to the snowpack. We're seeing a lot more of those dots in Washington and Oregon than we were expecting. Lots more too in those in higher elevation places in drought-stricken California, Arizona, and New Mexico. Last year the drought was the only winter weather story on the west coast. Lots of yellow and red dots were everywhere last year on this map. Currently those snow-lacking places are confined to northern Utah and Idaho.