North, South Korea exchange fire at disputed sea border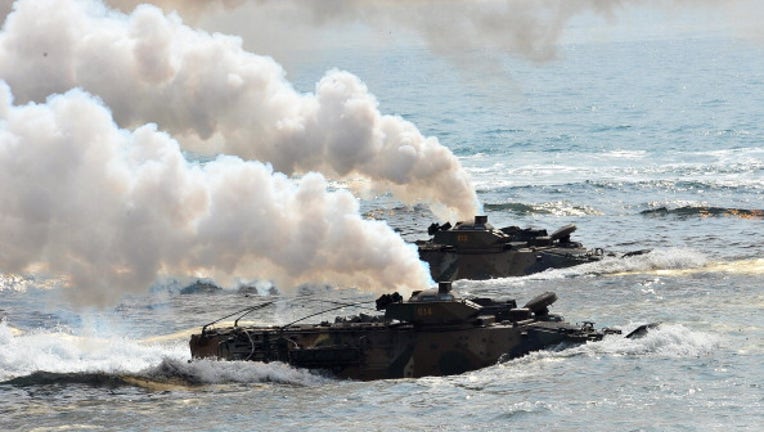 By Steven Borowiec 

SEOUL –- South and North Korea exchanged artillery across their disputed maritime border Monday, the South Korean military reported.


As the North conducted live-fire military drills, shells reportedly landed on the southern side of the Northern Limit Line, the de facto maritime border, and the South Korean military returned fire and dispatched F-K15 fighter jets in response, according to South Korea's Joint Chiefs of Staff.

No land installations were reported to have been hit and no casualties were reported, the South Korean military told Agence France-Presse. Residents of South Korean border islands were evacuated to nearby shelters.

Earlier in the day, Pyongyang had made the unusual move of announcing that it would hold live-fire military exercises in the area. It also declared a no-fly zone and no-sail zone.

Last week, the North test-launched two medium-range missiles, a violation of United Nations Security Council resolutions that mandate a suspension of Pyongyang's ballistic missile and nuclear programs. In the days preceding the test launches, the North Korean military had fired a series of short-range missiles over several days.

On Sunday, the North's Foreign Ministry, in a statement reported by the Korean Central News Agency, denounced the U.N. and threatened to hold a fourth nuclear test. South Korean officials said Monday that no signs of an impending nuclear test had been detected.

Such combative behavior could be North Korea's way of communicating its displeasure with ongoing U.S.-South Korea military exercises. The Foal Eagle field exercises are scheduled to continue until April 18, and Sunday the annual Ssang Yong (Korean for "double dragon") exercises kicked off, involving about 9,500 U.S. Marine and Navy personnel along with about 4,500 South Korean troops. The Ssang Yong exercises are being held on South Korea's east coast, far from Monday's exchange.

The Yellow Sea maritime border between South and North Korea, set in 1953 by the United Nations Command, has often been the site of conflict between the two sides. Pyongyang doesn't recognize the Northern Limit Line, as it was drawn without the North's involvement. Friction can therefore arise due to lack of agreement over where one side's waters end and the other's begin.

The 2010 shelling of Yeonpyeong, one of five South Korean Yellow Sea islands, started in a manner similar to Monday's exchange. In that case, the North Korean military fired on the island after it said South Korean shells from live-fire drills landed in its waters. Four South Koreans died in the exchange.

South and North Korea remain technically at war because the combat phase of the 1950-53 Korean War ended with an armistice agreement and a peace treaty has never been signed. About 28,500 U.S. troops are stationed in South Korea.