Nonprofits, donations helping to feed mudslide survivors, bury loved ones


OSO, Wash. -- From people emptying their piggy banks to businesses holding donation drives, pastors who know the victims of the Oso disaster say the generosity has been overwhelming.

"At least every family that I have spoken with has expressed to me how comforted and strengthened they have been by the extraordinary response of the communities reaching out to them and supporting them," the Rev. Tim Sauer, of the Catholic Churches of Arlington and Darrington, said at a news conference Tuesday.

Catholic Community Services, in conjunction with the Archdiocese of Seattle, is providing through the Catholic Churches of Arlington and Darrington as much financial assistance as the families of victims need in order to provide their funeral and burial expenses. Families can request assistance regardless of their financial needs or religious affiliation.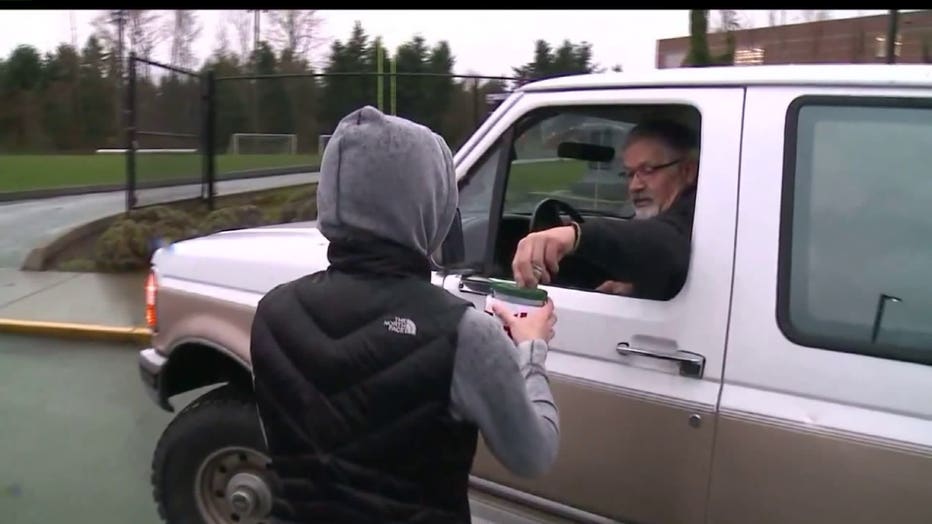 Students collecting money for the mudslide victims' families Tuesday. (Photo: KCPQ-TV)


The Red Cross has already provided 15,000 meals to the families who showed up at their shelters, and the first-responders who have been helping in the search effort. But now agencies are looking at what slide victims will need to rebuild their lives.

"The case work process is really just beginning," said Paula Negele. "That first week was about giving a warm and comfortable, safe place to stay."

"We won't know what the federal government is going to do for a while," added Dennis Smith of the United Way. "But we do know there's going to be long-term needs, mental health services, and things of that nature."

The agencies don't want to miss families who may not feel comfortable stepping up and admitting they need help. So they're working with the mayors of Arlington and Darrington, as well as local churches and nonprofit groups.

"We met yesterday all as a group to say how we work together getting the funds out," says Smith. "It's going to be very coordinated."

Caseworkers are being brought in to work one on one with families, because they may not know exactly what they need.

"This event happened so suddenly, so unexpectedly," said Sauer. "Even though it's now been quite a number of days since the event itself, families are still in a stage of trying to come to grips with this."

But nonprofit agencies say thanks to all the people who have donated, they will here for these families as long as they need to be.

"It's just a little bit of time to get them comfortable with the situation and then get them the help they need," said Negele.

Two joint resource centers are open to provide information and resources to those affected by the slide. The centers are located at the Immaculate Conception Church at 1200 E 5th St. in Arlington and at Darrington Middle School at 1075 Fir Street in Darrington.