No highly invasive species found on suspected Japanese dock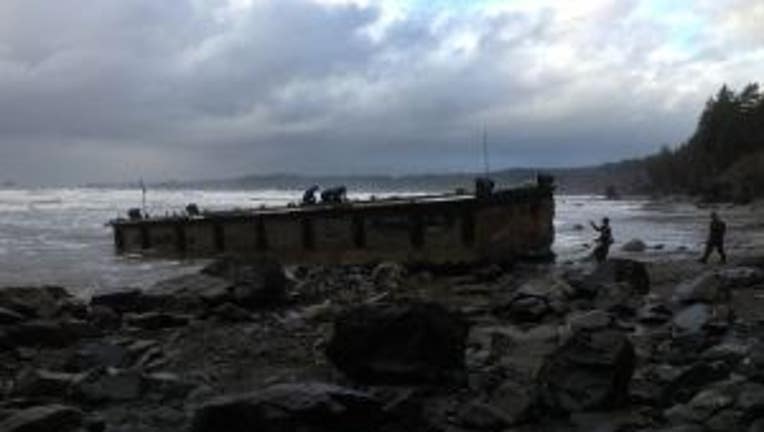 FORKS, Wash. -- Many of the same organisms found on a Japanese tsunami dock in Oregon have been discovered on the dock that recently washed ashore on the Washington coast, but no highly invasive species have been detected, a state Wildlife and Fish official said Thursday.

Allen Pleus, the Washington state Department of  Fish and Wildlife's aquatic invasive species coordinator, said the evidence shows that Japanese coastal organisms continue to survive on marine debris, even after 20 months at sea.

Pleus said most of the species on the Washington dock were present on a similar dock that came ashore on Agate Beach, Ore., in June, but none of the highly invasive species found on the Oregon structure were present on the Washington dock.

Nearly 30 species have been identified so far, he said. More detailed analysis is ongoing and may require several months, Pleus said.

Responders also took samples to test for radioactivity. Washington State Department of Health experts said it's unlikely that radioactive contamination will be detected.

The dock, suspected to have been set adrift by the March 2011 Japanese tsunami, remains beached on a remote and rugged section of the Olympic National Park coastline, state officials said.

State responders are developing a plan for dealing with the dock. No plan can be enacted until January, however, due to tides and daylight access, said a Washington State Marine Debris Task Force news release.

Meanwhile, as a precaution, a tracking buoy has been attached to the dock. The buoy transmits its location twice daily via satellite. The location coordinates have not changed, indicating the dock has not moved since visited by a response team last week, the task force said.

A ground crew representing federal and state agencies reached the dock on Friday, Dec. 21. It has been discovered earlier by a Coast Guard helicopter crew.