Nine officers injured, 9 protesters arrested in Olympia May Day riot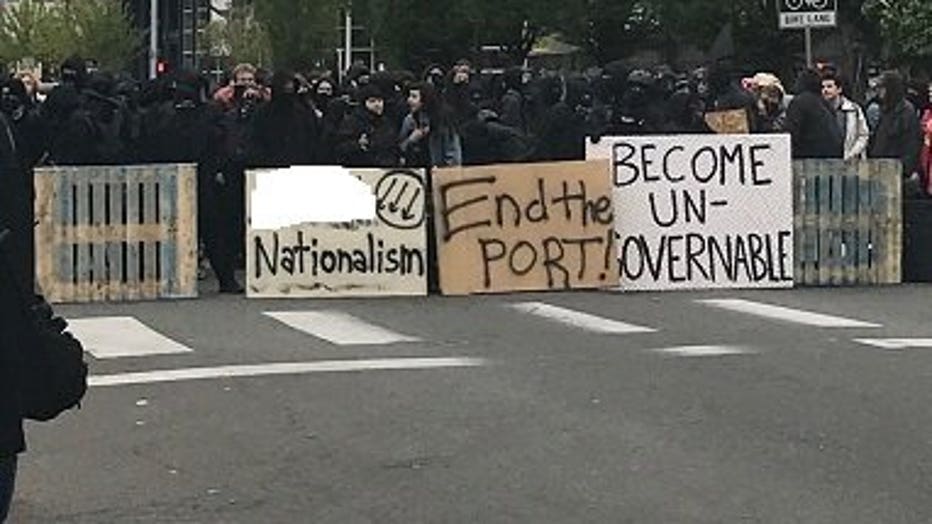 OLYMPIA, Wash. -- Police declared a riot in Olympia Monday as a group of people dressed mostly in black threw rocks, bottles and pepper-spray at officers.

Police said they had arrested nine members of a "mob" throwing rocks and breaking windows of businesses. Police said nine officers were injured by rocks and marbles fired at them with slingshots.

Police had tweeted that about 40 people began walking eastbound on 4th Avenue shortly before 7 p.m. They had signs that read, "End the Port," "F--- Nationalism" and "Become ungovernable."

Police said that the group, wearing masks, started firing fireworks and smoke devices at their officers. After the officers gave dispersal orders, and the group threw more rocks, the officers opened fire with tear gas and flash bangs. The group ran off and started moving north along Jefferson Street.




Some homeless people who live in the area started throwing bricks and rocks at the protesters.

Some members of the group began breaking out windows in the U.S. Bank building and other buildings.

Police said nine officers were injured by projectiles, but most were minor injuries.