'Night Stalker' Richard Ramirez dead





 Richard Ramirez, the "Night Stalker" serial killer convicted of killing 13 people, died of natural causes at 9:10 a.m. Friday at a Bay Area hospital, corrections officials confirmed.


A Los Angeles jury convicted Ramirez in the 13 killings that terrorized Southern California in the mid-1980s. He was sentenced to death and had been serving time on death row in San Quentin since 1989.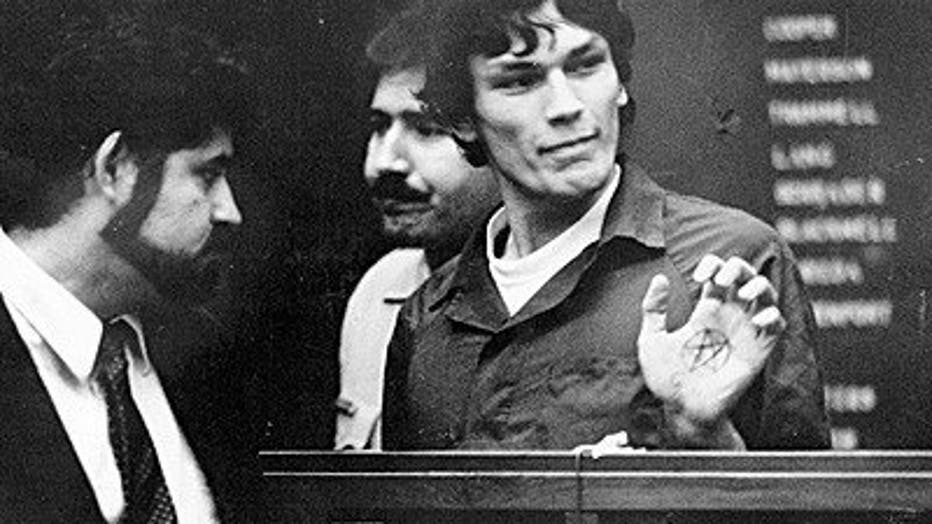 Photo courtesy of Los Angeles Times


Ramirez went on a months-long rampage of sexual assault and murder that generated widespread fear throughout Southern California

FROM THE ARCHIVES: Ramirez found guilty

In most of the cases, Ramirez entered homes in the early morning hours through open windows or doors.

Some of the victims were found strangled, others had their throats slashed, but most had been fatally shot.

Spray-painted pentagrams -- a distinctive Satanist symbol -- were also found on the walls of the some of victims' homes.

The killings led to an increase in the sale of guns, ammunition, locks and window bars throughout Los Angeles County.

Ramirez's killing rampage finally ended on Aug. 31, 1985, when he was captured and beaten by angry citizens in East Los Angeles after he tried to steal a woman's car.

It was a dramatic capture that capped a last frenetic attempt to steal a car and escape seven Los Angeles Police patrol cars that had been chasing him for 20 minutes. A police helicopter also was following overhead.

Four citizens grabbed and subdued him. When they handed him over to police, he was bloody after repeated blows from a steel rod.

According to an L.A. Times story about his capture, police found Ramirez begging for his life in Spanish: "Dejeme en paz! Dejeme en paz!" -- Spanish for "Leave me in peace!"

The citizens said they recognized Ramirez by his eyes.

Several hours after the incident, Angelina De La Torre fought back tears and told a reporter that she at first thought the man was just an ordinary robber.

She said she had not yet closed the door when Ramirez came toward her and demanded that she hand over the car keys. She shoved him with the car door, and when he fell back she lunged out. Her friend ran from the car screaming, "That's the Night Stalker! That's the Night Stalker!"

"Then I recognized the eyes from the news last night," she said. "I gave him the keys."

Ramirez was convicted in 1989 of 13 murders, five attempted murders, 11 sexual assaults and 14 burglaries. But, delayed by problems in getting him a lawyer and preparing the voluminous trial transcript, Ramirez's direct appeal was not heard by the California Supreme Court until June 2006. His convictions and death sentence were affirmed two months later.

In 2009, San Francisco police linked him to the 1984 slaying of a 9-year-old girl.

--Kate Mather and Paige St. John, Los Angeles Times