NHL player traded close to home after 11-year-old daughter's heartwarming letter goes viral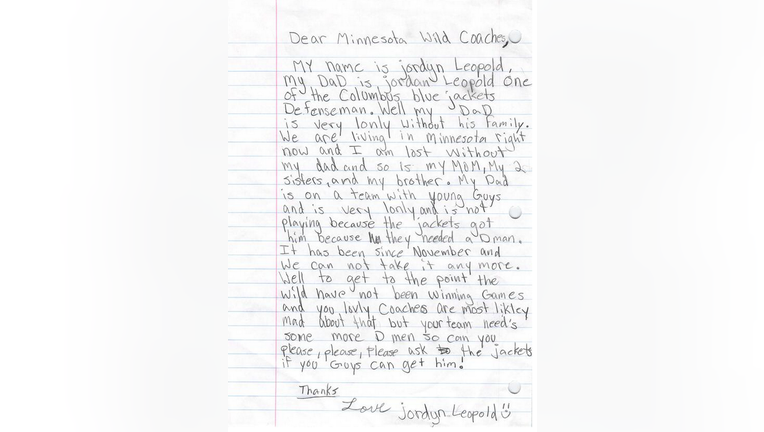 ST. PAUL, Minn. (AP) — Jordan Leopold has learned he's coming home, to the NHL's Minnesota Wild.

Nobody could have been more delighted by the deal than Leopold's daughter.

Veteran defenseman Jordan Leopold started the 2014-2015 NHL season with the St. Louis Blues. In November, he was traded to the struggling Columbus Blue Jackets.

Leopold, a Minnesota native, played collegiately for the University of Minnesota's Golden Gophers, and his wife Jamie and their four children live in the Twin Cities area.

Hours before the trade was finalized Monday, a photo of a heartfelt letter 11-year-old Jordyn Leopold wrote earlier this winter to the Wild coaching staff was being widely circulated online.

Her handwritten urging of the Wild to make a trade for Leopold was never actually delivered to the team. The veteran defenseman's wife, Jamie Leopold, posted it on Facebook a couple of months ago.

She told Twin Cities radio station KFAN she found the note on the counter after her daughter left for school one day.

In the letter, Jordyn Leopold said she, her mother and three siblings have been lonely without their dad around.