New governor talks gun legislation, taxes and coal trains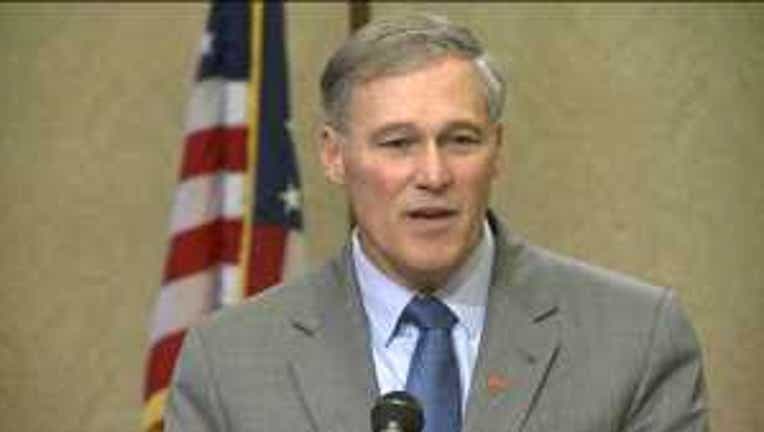 article
OLYMPIA -- Gov. Jay Inslee, a day after an inaugural address that critics said lacked specifics, gave a much fuller picture Thursday of where he intends to take the state over the next four years.

"It is not in the interest of health or safety or personal fulfillment to have to have ammunition capacity of 30 or 100 rounds," Inslee said at this first news conference, referring to gun legislation to reduce violence.



In addition to favoring a limit on ammunition magazines, Inslee reiterated his support of the federal assault-weapons ban he voted for as a member of Congress in 1994. Recognizing the passion around the issue, he said his approach with state legislators will be to nudge more than push.

"I hope to bring a listening attitude to this, to listen to my colleagues, Democrats and Republicans," he said.

Inslee, a Democrat, also gave a much clearer picture about where he stands on taxes to shore up the state's deep budget hole. Inslee pledged during the campaign not to raise taxes.

The governor, however, he didn't rule out continuing two taxes that are set to expire in June, one on beer and one on business services, including lawyers, doctors, and accountants.

"I do not believe that we would be increasing taxes if we extend the existing tax rates in that regard," Inslee said. "I'm not proposing or advocating to do that today, but I want to make sure that I allow the legislators room to discuss this potential."

Finally, the governor made clear that he will do all he can to promote clean energy, including taking a hard look at the plan to allow coal trains through the state for coal export to China.

"Every single ton of coal that's burned anywhere on the planet Earth in some ways ends up in Puget Sound," he said. "This is not just about the polar bears, it is about business opportunities in our state that are today being damaged."

Inslee will, no doubt, face opposition on all these issues, especially policies around climate change.

"You don't have agreement from all the scientists in the world that says that this is happening," said state Rep. Richard DeBolt of Chehalis, the House Republican leader. "We do support the concept of a greener government, but one of the things we have to understand is that the science is not exact and it's not over."

The governor and Legislature have until the session ends in April to find some kind of common ground on these issues.