New details in case of stolen Horizon Air plane from Sea-Tac


SEATTLE -- We're learning new details Friday night about the moments that led up to a man stealing a plane at Sea-Tac International Airport three weeks ago.

Richard Russell, 29,  a Horizon Air ground service agent, stole the plane, flew around the area, performing loops and barrel rolls, and crashed on Ketron Island on August 10. He died in the crash.

Q13 New is combing through emails to learn more. All of the new information comes to us from a public records request. More than 800 emails between the Port of Seattle, Alaska Air Group, the FBI, and other state and federal agencies shows what happened and how much officials knew as the incident was unfolding.

"They had finally landed, and the pilot said somebody had stolen an airplane," said one man waiting to pick up his daughter from Sea-Tac on August 10.

Confusion and concern swept through Sea-Tac Airport. Q13 News is now learning intricate details about that night in several emails and documents released by the Port of Seattle.

Russell used his own employee badge to enter Sea-Tac secure grounds and parked his car sometime just after 2 p.m.  It was about five hours later when Port of Seattle says he stole the Horizon Air plane. He took off on a short runway, enabling him to get up in the air quickly without having to wait behind other planes.

"Who's the aircraft on Runway 16 center?" asked one air traffic controller.

"He came flying out of the cargo area," responded another controller.

"Call and scramble now!" responded the first air traffic controller.

Right after that, the first radio contact between Russell and the Seattle Ramp Tower. The data we've collected so far doesn't show any other contact between Russell or  anyone else, including air traffic control or law enforcement, until after Russell had already gotten into the plane, started it up, crossed runways and began takeoff.  He flew south, dangerously close to homes below.

Russell was one of 1,200 airport employees with an Airport Movement Area (or AMA) badge. Port of Seattle says 24,000 badged employees operate during the peak summer season.

In an email, a terminal operations manager wrote, "Richard Russell did not have any recorded citations."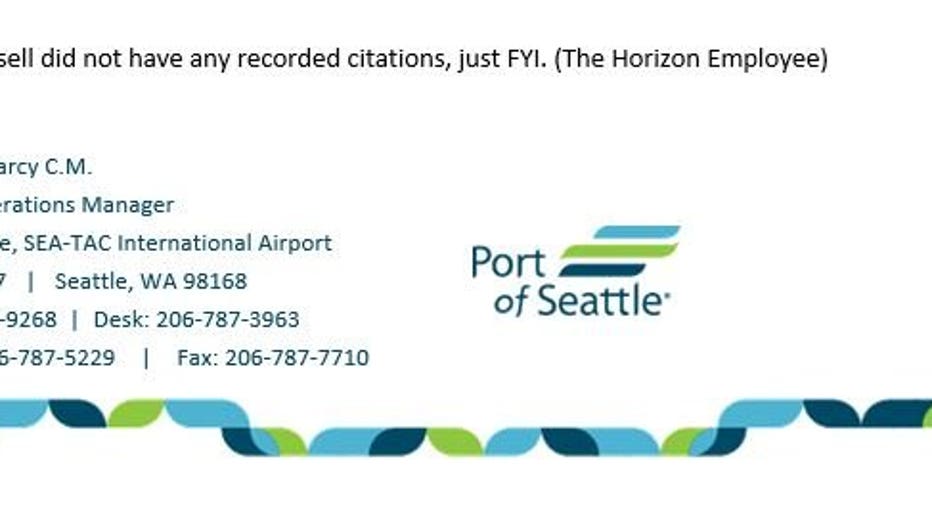 Still, Port of Seattle made security changes in the days following the incident as announced in an August 13 press conference. A Q13 News request for more information about changes to security or protocol was denied, citing tactical security concerns.

"We do have an additional security presence at our cargo locations, which you may have known have occurred. We have a stepped-up security presence throughout this airport," said Commission President Courtney Gregoire.

Q13 News also requested video of the runway and the cargo area where Richard Russell entered the plane and then took off. All video is being held by the TSA for now as this investigation continues. Part of our request has been denied, but other records should be released to us in the coming weeks.