New Chinese recycling restrictions increase garbage bills
SEATTLE -- Would you pay more to recycle? You may have to because of the new policy, the China Sword.

For decades, most of the recycling in Western Washington went to China, to be processed and reused. But in 2017, Chinese government officials decided the quality of recycling the United States was sending the country wasn't good enough, simply put, there was too much garbage in sorted recycling.

In response, China tightened restrictions about what recycling the country would accept, restrictions that virtually stopped recycling shipments from the U.S. to China.

Now recycling is piling up and so are the costs. Recyclers anticipate that cost will soon be passed onto residents through increased garbage bills.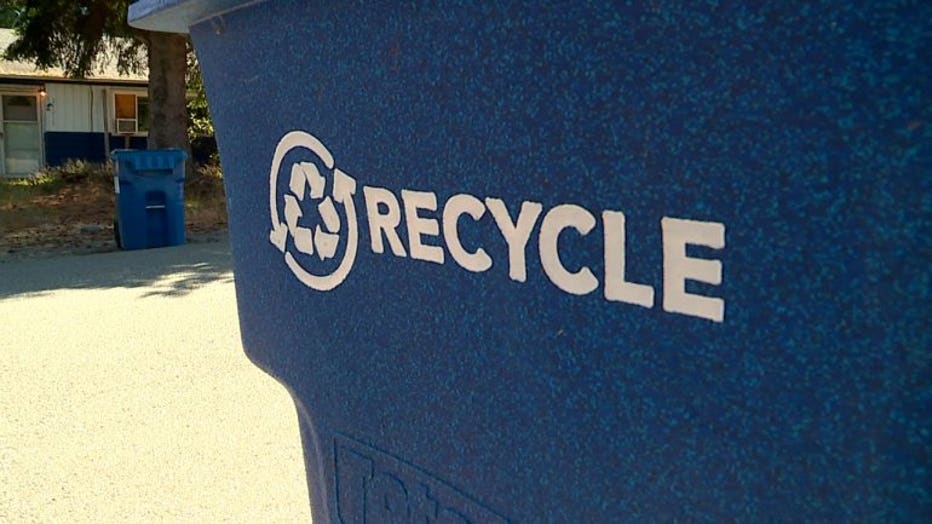 RECYCLING IS NOT FREE

"Recycling is not free and I think for many, people think that," said Kevin Kelly, general manager at Recology CleanScapes, a recycling company that sorts materials in Seattle.

That couldn't be further from the truth. Kelly said it costs money to run the trucks, the machines and to pay the people to turn our recycling into a commodity.

Until recently, the cost to collect and sort recycling was less than the revenue gained from selling the materials.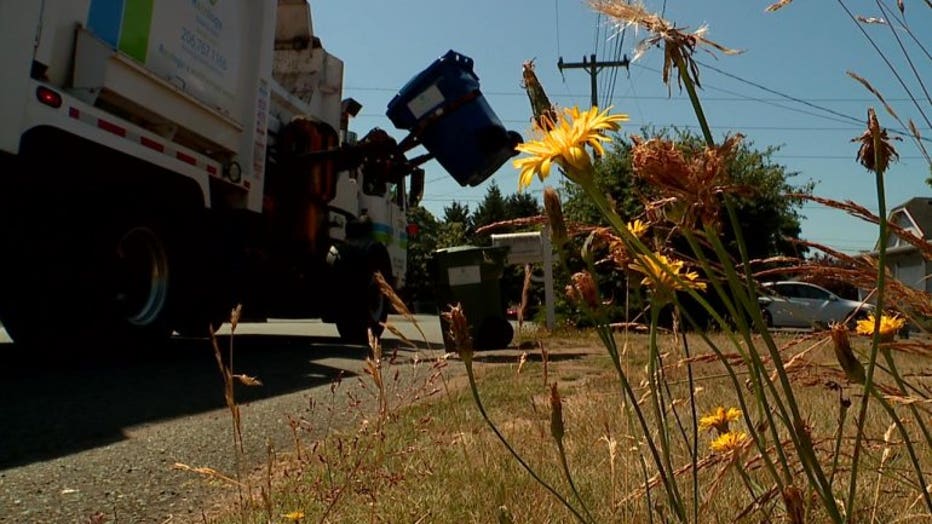 Recycling was profitable, especially the sale of mixed paper. In the summer of 2017, according to Brad Lovaas, executive director of the Washington Refuse & Recycling Association recyclers could sell a ton of mixed paper for about $100.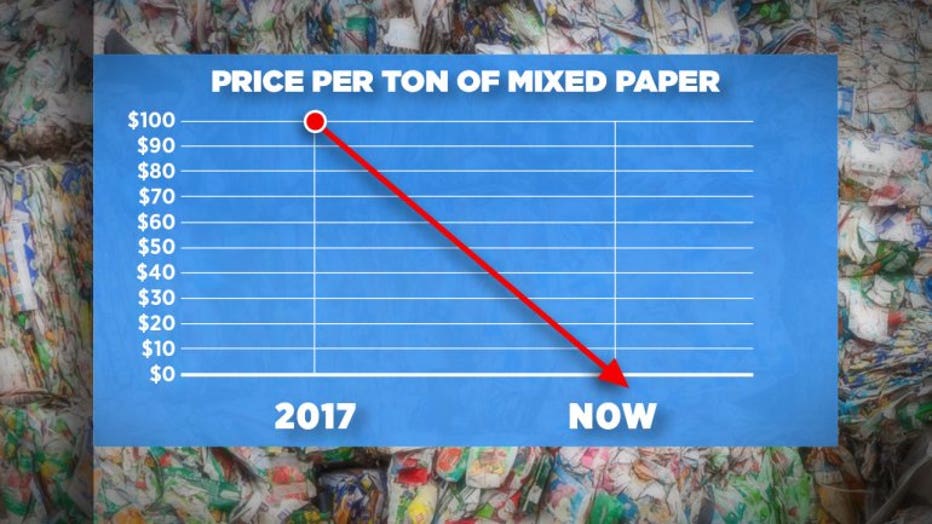 Now with China banning the import or several types of recyclables-the price plummeted to zero and, in some cases, recyclers have to pay for materials to be processed.

"After all that effort and expense you're left with a product that has no value," said Keller. "Some of it is less than zero, you have to pay to get rid of it."

INCREASING COSTS, DECREASING PROFIT

On top of that, costs for recyclers are increasing. To attempt to comply and get a cleaner bale of recycling, facilities like this one owned by Recology, are adding sorting staff and slowing down conveyer belts that run recycling through the sorting process.

"We have a situation here where in order to generate the revenue we used to see, we need to put more resources into doing," said Kelly. "While at the same time getting far less value than what we previously did."

While Kelly wouldn't go into the specifics, he did say the problem is certainly affecting their bottom line.

"It's definitely been a change to our business model," said Kelly.

Just up the street, at Western Washington's largest sorting facility in Sodo owned by Republic Services, there are similar issues.

"We're a private entity. We're for profit, you can't make a capital investment. You can't continue to operate if your plan is to lose money," said Pete Keller, vice president of recycling and customer solutions at Republic Services

If we want to keep recycling, Keller says people should be prepared to pay more.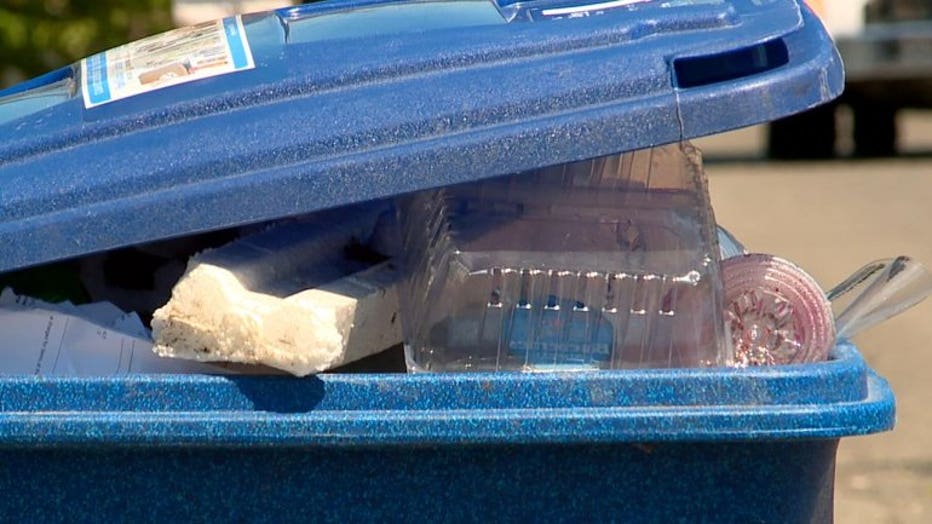 "That cost is going to get pushed upstream if these programs are going to continue to survive," said Keller.

BIGGER BILLS

In fact, it's already happening. The Washington State Utilities and Transportation Commission approves rate increases for all recycling service areas not handled by individual municipalities, often unincorporated areas. The state UTC said as of July 17, its approved rate increases for 19 different recycling service areas across the state and more requests are coming in weekly. The increases are as low as 25 cents and as high as $5.26 per month.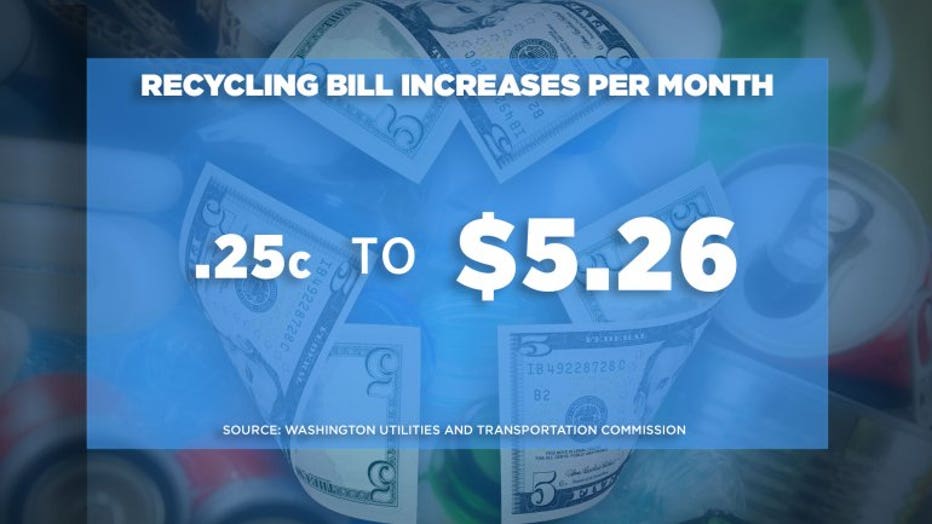 King County's Solid Waste Department said they're not surprised. While King County has yet to approve a rate increase for its customers in unincorporated King County, solid waste staff say they're not ruling it out.

"Short-term, there might be some surcharges," said Jeff Gaisford, the recycling and environmental services manager for King County Solid Waste. "Longer term, we want to see how we can minimize some of the cost that our processors are experiencing."

THE SEATTLE EXCEPTION

In Seattle, it's a different story.

"We don't see any change for the Seattle customers in the next few years," said Hans Van Dusen, solid waste contracts manager for the city of Seattle. "Our situation is different from most other communities."

In other cities, recyclers eat the cost of collecting recycling but make it back when they sell it. In Seattle, the collector gets paid to process the recycling regardless of sale price. Van Dusen says that means Seattle customers should not expect to pay more.

Everywhere else in Washington state, recyclers and government officials agree a garage bill increase is coming, it's just a matter of how much and when.

"It will get more expensive for these programs to exist," said Keller.

According to the Washington UTC, prices are expected to level out by the end of the summer.