Neighbors watch, wait for ocean to devour home in Pacific County


NORTH COVE, Wash. -- Parts of Pacific County have a history of eroding into the ocean during bad storms.

What once was a neighborhood is now called Washaway Beach.

The strong storm Tuesday pushed winds of 45 mph on shore with gusts forecast to reach up to 65 mph.

No structures had been swept away by midday Tuesday, but the winter storm continued churning the winds and surf.

Along Spruce Street, a mobile home clinged to what's left of a cliff. The wind and rain pounded the coast and soon the structure will likely join many other homes the ocean claimed over the years.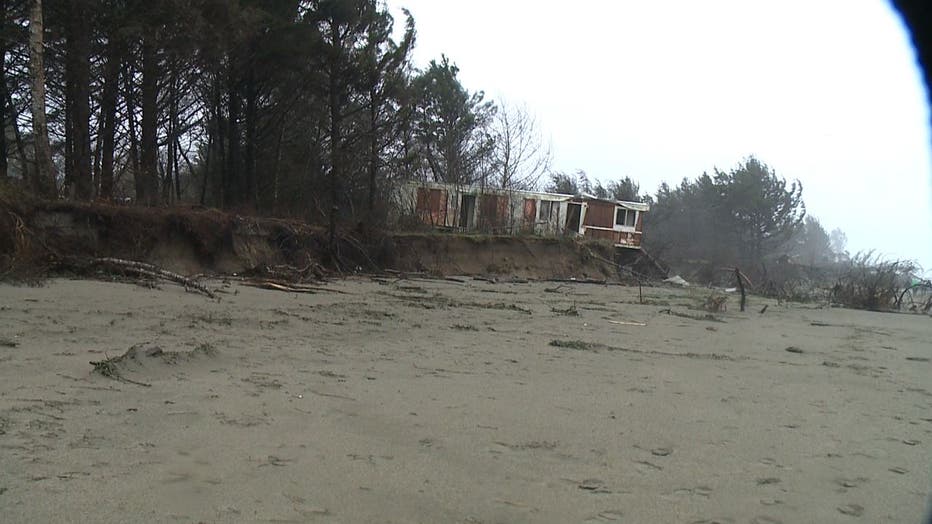 Back in 2014, two homes fell were swallowed by the ocean. That's why Kerri Jones said her family moved out of the neighborhood long ago.

"Mother Nature is spectacular," she said. "It's heartbreaking to watch people's homes go in but at the same time it's kind of spectacular to watch."

The seas swelled just off shore while Jones and her family took a brave walk on the beach.

The trailer survived the strong winds but the winter storm continued its onslaught.

"It's going to be kind of scary," said Jones. "That trailer right there probably won't be here tomorrow."

High tide rolled into North Cove by early afternoon, which threatened new erosion in the neighborhood.

County Officials said the winds would slow down after sunset.