'It's only a matter of time before something comes through my window:' Neighbors demand change to Tacoma road
TACOMA, Wash. - A Tacoma neighborhood is on edge and demanding change, after they say dangerous car crashes continue to plague their street.
On Jan. 16 around 7 p.m., a hit-and-driver totaled a woman's car and damaged a home on the 6400 block of South Oakes Street.
"It's only a matter of time before something comes right in through my window," said Tyler Lorenz.
Lorenz sat inside his home when one of the cars smashed into a wall just feet away from him.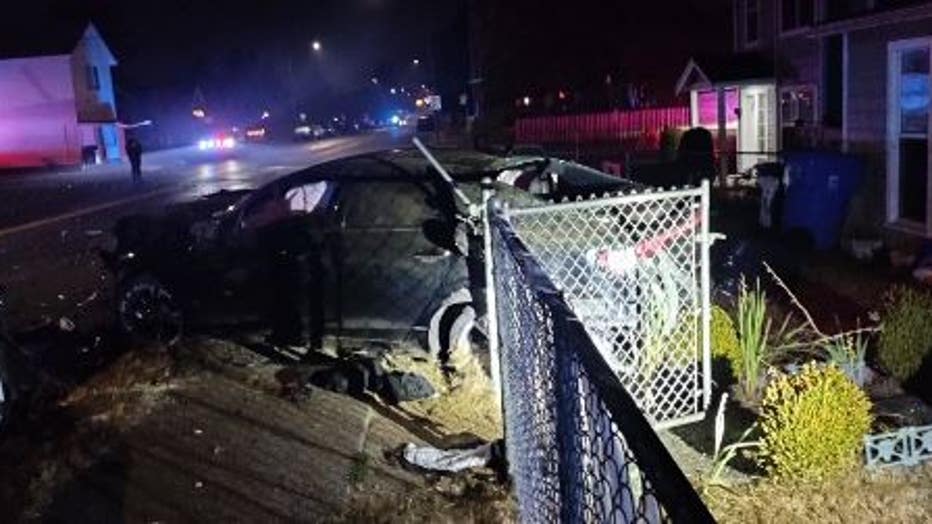 Neighbors say the crash is not surprising. In fact, about three months ago, a very similar incident happened across the street.
"If those cars weren't there, they would have come through the house," said Josie Cobb.
Cobb says on Oct. 17, a car smashed into her family's two parked vehicles in front of her home. 
She says some of the people in the car took off running, leaving her cars totaled on her front yard. Cobb says the price for dealing with the damage was an unexpected cost for her family.
However, Cobb says what could have happened that night is what still leaves her terrified.
"I started crying on the front porch because I just kept thinking if this would have happened, and they would have taken out my son, that's just not something you can deal with," she said.
The speed limit on the 6400 block of South Oakes Street is 30 mph. However, that does not stop people from speeding down the road.
RELATED: City of Tacoma hopes to save lives by lowering speed limits in 2023
At the cross road for south 64th Street, there are stop signs. However, there are no stop signs on South Oakes Street.
"Something needs to happen because this is not something that is going away," said Cobb.
One block away from South Oakes Street, there are roundabouts at intersections that slow the flow of traffic.
Cobb says she is working to create a petition to get something similar on her street.
Officials with the City of Tacoma tell FOX 13 News there is not a list of street projects, but the city is prioritizing streets that were identified in the Vision Zero Action Plan for future changes.
The city says anyone who has concerns about traffic safety in their community can reach out to TacomaFIRST 311 by calling 253.591.5000 or visiting the website.