Neighbors and railroad at odds over landslides


MUKILTEO -- Homeowner James Westenberger will tell just about anyone that he is living in fear.

"Basically I'm in fear that a train may derail, hurt people on the train, and hurt us," Westenberger said Monday.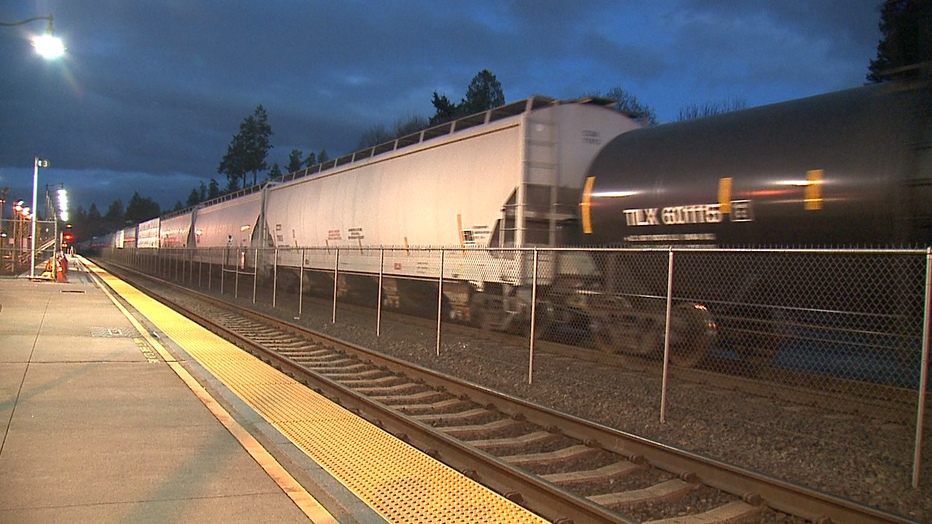 And it's happened before, in Everett.

The landslide came down and derailed a passing train. There were no serious injuries.

Westenberger's home sits high atop a cliff over the Burlington Northern Santa Fe Railroad tracks that run along the Sound and, once again, this weekend the hillside slid down onto the tracks.

Westenberger believes BNSF is responsible for the slides.

His theory is that the rumble of the train actually causes them.

"We believe it's the responsibility of the railroad to fix this landslide issue.  If you look at the slide, it's pretty much all within their easement so you would think it's their responsibility to fix it or at least put in some retaining walls or do some type of erosion control but they're choosing to do none of it," Westenberger said.

But BNSF doesn't see it that way.

The company controls more than 300 miles of track that connects Portland to British Columbia and places east.

"And on much of it you have water on one side, you have steep slopes on the other up to 200 feet in some areas, and when you get day after day of rainfall, unfortunately, we're stuck at the bottom with a shovel and we have to clean up the debris that comes down. Ninety-nine percent of the slides that occur don't begin on BNSF property," BNSF spokesman Gus Melonas said.

Last season, there were more than 100 slides of significance.

BNSF crews work to maintain their tracks on a daily basis and that includes shoring up hillsides to prevent slides.

"We've taken steps in the past, working with land owners, working with the parks departments wherever it is, such as Carkeek Park, Blue Ridge neighborhood, and Golden Gardens area.  We've stabilized slopes, invested to ensure that technology helps fight Mother Nature," Melonas said.

But Westenberger believes BNSF should do more, but he doesn't believe they ever will.

"The amount of material that they bring back and forth on these trains is probably worth a lot more to them than our lives," Westenberger said.

Commuter rail service is expected to resume Wednesday morning.