Neighborhood dispute ends in indecent exposure, drug accusations


SPANAWAY -- A neighborhood dispute turned ugly and now one homeowner is accused of exposing himself and making drugs in his garage.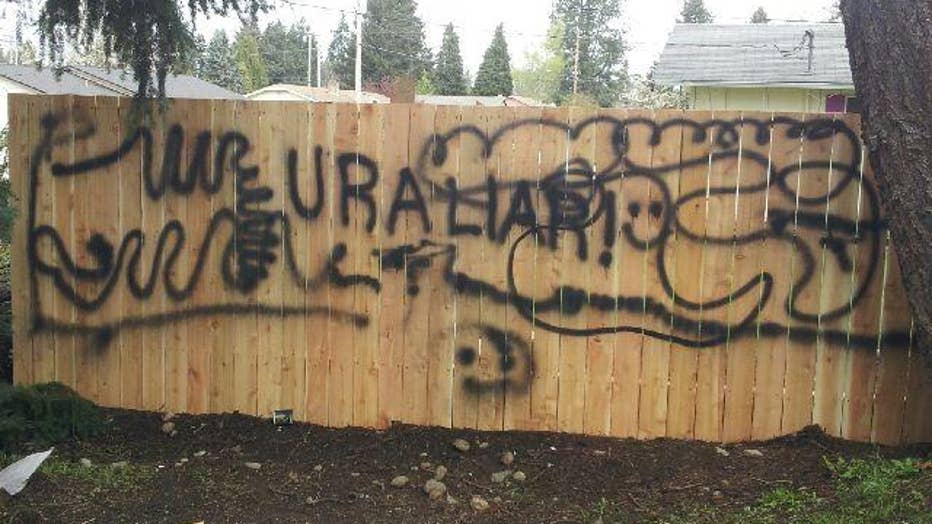 Spanaway man allegedly wrote messages on his fence for his neighbor to see; part of it contained obscene words and drawings. (Photo: KCPQ-TV)


It all started over which direction the boards on a fence would face, but the dispute quickly escalated into insults, neighbors said.

But now the family of Walter Robinson, the man accused of those crimes, is defending his actions.

"My dad's been here for how long?" said Walter's daughter, Lori Robinson. "They come in and start tearing apart this house."

The owners of a home on 8th Avenue East in Spanaway are trying to fix it up and quickly sell it.

But others in the neighborhood say the next-door neighbor, Walter Robinson, is making it anything but easy.

"It's really sad," said neighbor Joey Adams. "They're nice ladies, they just want to make a nice home for a family and they have this kind of stuff to deal with. It's unfortunate."

Neighbors say Robinson vandalized his next-door neighbor's garage door and also spray-painted dirty words on their new fence.

And then police say Robinson exposed himself to neighbors through his front window.

"We had five kids playing in the yard back and forth here," said Adams. "Luckily we sent them to the back yard. Literally seconds later he came out screaming."

But Lori said the new homeowners are the ones who are making life difficult.

"She keeps taking pictures through the window," said Lori. "So, my brother came and was like pounding on the window."

Neighbors called 911 and police showed up looking for Robinson but they didn't find him. Detectives said officers then found something else in the garage.

"And then find out he's extracting THC out of marijuana in his garage," said detective Ed Troyer with the Pierce County Sheriff's Department. "There's a whole bunch of charges now. He's the one who got himself into this. He was warned to back off, there's a restraining order against him, he violated them, and now he's going to end up in jail on multiple felony counts."

Court records say Robinson's family didn't have any clue as to who was extracting THC, but Lori says her dad has a medical marijuana card and provides pot to others at a discounted price.

"He's never had anything to do with that," said Lori. "He has his grow license to provide for people and that's what he does. That's all he's ever done."

Cops still haven't caught up to Robinson, who is supposed to show up to court on May 6. If Robinson misses that appearance, a bench warrant could be issued for his arrest.