Need some extra cash? Amazon, others ramp up hiring ahead of promising holiday season
SEATTLE -- Thousands of full and part-time jobs are opening up in Washington ahead of the holiday season, leaving plenty of opportunities for people to get their side-hustle on.

The 2017 holiday hiring forecast looks better than last year, with the state expected to add 12,924 retail jobs. This is up from 12,543 jobs last year, and 10,542 in 2015.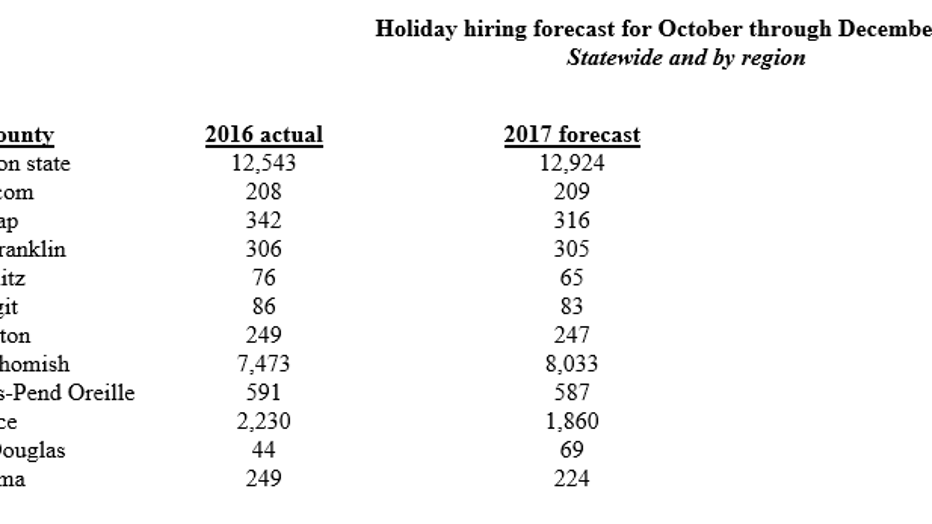 From the Washington State Employment Security Department.


The bulk of the jobs will be hired around Seattle and the Puget Sound, with many going to "general merchandise stores," state economist Paul Turek said. Heavy holiday hiring is coming on the backs of high consumer confidence and a generally good economy in the state, which has more than 400,000 retail employees.

"I think from a sales standpoint we are in good shape," Turek said. "Retail and employment a little bit less, but still solid."

Amazon leading the charge

Amazon plans to hire 4,000 people in the Puget Sound area as part of a nation-wide hiring push expected to create 120,000 positions, the company said in October.




The jobs will be full- and part-time, and seasonal work often transitions into full-time employment with the company.

"We look forward to welcoming back holiday employees who return year after year to Amazon and welcome new faces to the team," said Dave Clark, Amazon Senior Vice President of Global Customer Fulfillment. "Many of whom will continue on with regular, full-time roles with the company after the holidays."

A hiring fair is scheduled for Saturday, Nov. 4 from 8 a.m. to 3 p.m. The fair will take place at the Amazon Staffing Office, 21005 64th Avenue South in Kent. 

An Amazon spokesperson said people can walk in, apply, and receive an on-the-spot job offer. Candidates can also apply online.

Other retail giants such as Target, Walmart and Nordstrom are also hiring for the holiday season.

Brick and mortar still alive

Despite the prevalence of online shopping, Turek says brick-and-mortar stores in the Northwest are still expected to do well this year. That's because, despite the proliferation of Amazon and online retailers, the economy in the area is as strong as ever.

Residents in King and Snohomish Counties will see the most opportunity for jobs , Turek said. But other spots like Pierce, Thurston and Spokane counties will see some hiring growth.


Q13 News will have more on this story Friday