Natural gas disruption over; trash and transit services returning to normal


BELLEVUE, Wash. -- Some good news with it comes to the natural gas disruptions that could have had major impacts on about 750,000 customers in Western Washington. Early Thursday afternoon service was restored for natural gas users large and small around the region following the Tuesday pipeline explosion in British Columbia, Canada.

The explosion caused the ruptured pipeline to be closed and a second one to be shut off to be inspected-- cutting off roughly two-thirds of the natural gas coming into Washington State affecting. The outage affected everything from trash collection to transit. Puget Sound Energy urged domestic customers to conserve usage and bigger customers to alter or cease operations to help out too.

"I think PSE made a really good call," says John Chelminiak with Waste Management. "They really needed to conserve natural gas. They didn't know exactly what they were going to be dealing with."

The spokesperson for the Northwest division of the national waste removal and recycling company says they are keeping their 300 natural gas-powered trucks from their regular routes in eight Puget Sound region cities as well as rural areas in King and Snohomish counties was the right thing to do.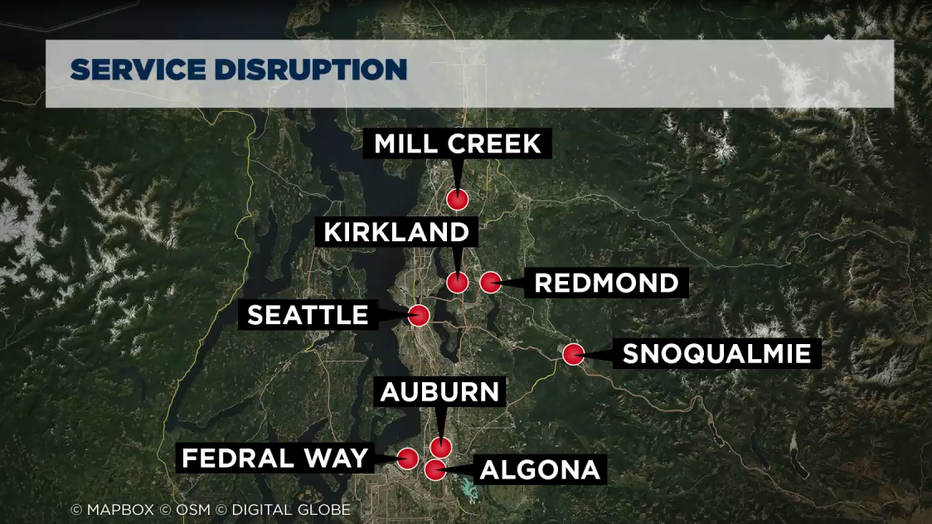 Waste Management's service disruption affected 8 cities as well as rural King and Snohomish Counties.


It's only their second natural gas outage in a decade of running these more environmentally friendly trucks. He says the company has no plans on ditching this greener fleet, either.

"They have a lot less emissions and they run quieter than the diesel trucks," says Chelminiak.

Sound Transit service resumed Thursday afternoon to running their larger natural gas buses that were parked during this service interruption too.

But if one break, in just one gas line can cause so many multiple problems-- Q13 News wanted to know, in our seismically active area, what Puget Sound Energy is doing to prepare for an even bigger event.

"If we have it nearby, we have it stored. We can use it and get to it quickly," says PSE spokesperson Andrew Padula.

PSE says the key to preparedness is investing in infrastructure whether it's power lines or pipelines.

"That's we are in a project like the liquid natural gas facility in the Port of Tacoma and our 'energize east side' project as well," says Padula. Energize Eastside is an on-going project to build a new substation and upgrade about 18 miles of existing transmission lines from Redmond to Renton.

For Waste Management, being a national company means they're well rehearsed in dealing with natural disasters in other areas. That kind of planning would help in a seismic event here too.

"We can always learn," says John Chelminiak at their Kirkland offices. "We go back to our contingency plans. We did have trucks that were being brought in actually today . So that we'd be able to at least get the critical customers.

For the communities affected by the Waste Management service disruption, most collections will just be offset a day. For the specifics of your area, here's a link to Waste Management. Several locations affected will be able to put out double trash loads next week as well.