National driving school tackles dangers of texting on the road
SEATTLE – Car crashes are the number one killer of teenagers.  It's one reason why the state of Washington just enacted a new harsher law against texting while driving.  While impaired driving is the biggest problem on the roads, experts argue distracted driving like texting isn't far behind.

Saturday, the Ford Driving Schools for Life Tour took a pit stop in Seattle to teach teenagers the dangers on the road might be inside their own vehicle.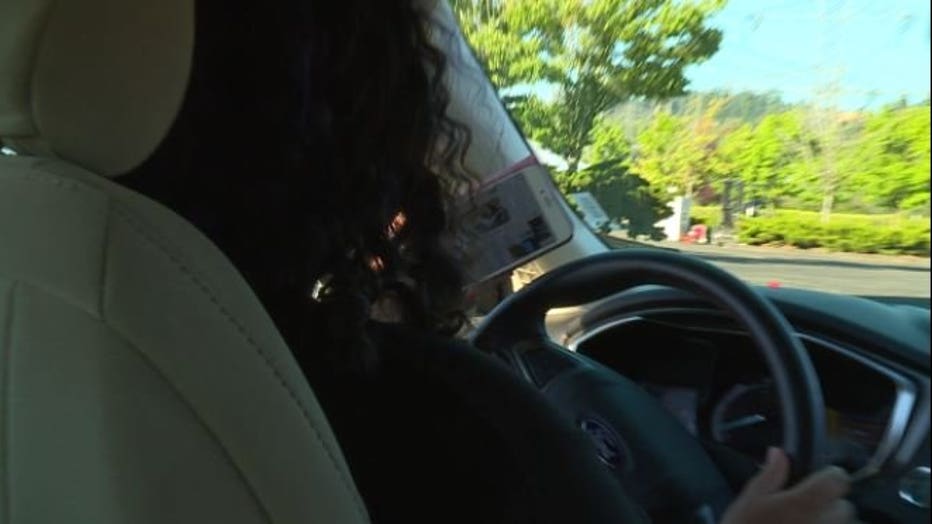 All the way from Yakima, 15-year-old Jazelle Brown is taking a special driving lesson today.  Her grandmother hopes she will one day take command of the road.

"It's a good feeling to see each step that she's growing and she's knowing more and more," said the student driver's grandmother Anita Mendoza.

It all depends on if she can keep her cell phone out of her hand.

"I'll be tempted to pick it up. I'll look at it and want to pick it up, but then my main focus is on the road," said Brown.

It's what we all know we should do when we get behind the wheel, but do we always follow that advice?

"If a parent is out there texting and driving, teens gonna do the exact same thing," said Ford Driving Schools for Life Program Manager Nolan Katerberg.

So good role modeling is key and maybe so is letting kids learn the hard way.

"We actually have them text behind the wheel and have them do a lap when they're not distracted and then we have them do a follow-up lap when they are texting and driving.  You prove to them that they cannot operate a vehicle as well when they're texting," said Ford Driving Schools for Life Professional Driving Instructor Rick Fulks.

So here goes Jazelle texting her best friend while driving through this setup course.

"Oops that was an accident guys," said Brown.

While texting and driving in the prepared course, Brown made a big mistake.  In the real world, it could lead to deadly consequences.  So her grandmother offers some advice.

"I do take the phone away and tell her it's better to turn the phone off. That was it doesn't distract you. You don't hear it buzz. You don't hear it ring. Just turn it off when you're driving," said Mendoza.

The driving school will teach some 400 teen drivers this weekend and there's still time to sign-up to maybe save a life.

"Learning how to drive is a lifelong process. So if we can teach young drivers how to drive correctly, by the time they're old they're going to continue those good habits," said Katerberg.

Because impaired driving is still a big problem, along with the texting course, parents and kids put on drunk suits and drug suits.  It shows them what it's like to be under the influence while driving.