Mystery 'blob' discovered by UW scientists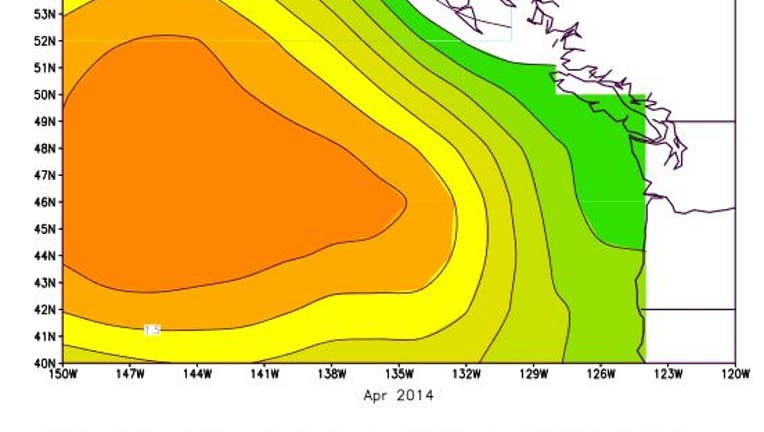 SEATTLE -- Ever since tropical fish started appearing in waters near Seattle, and emaciated seals began washing up on California beaches, the word "odd" has being thrown around the halls of the University of Washington-based Joint Institute for the Study of Atmosphere and Ocean with increasing regularity.

Now, scientists suspect a large, warm mass of water in the Pacific Ocean called the "warm blob" is to blame.

The blob is large a patch of water off the West Coast where temperatures have hovered above 1 to 4 degrees Celsius above normal for more than a year.

This large warm patch, or blob, seems to be wreaking much of the havoc on the ocean in the area, officials with the Study of Atmosphere and Ocean said. It's the reason Seattle is seeing tropical fish, and some other, native marine animals seem to be struggling to survive in nutrient-drained warm water.

"In the fall of 2013 and early 2014 we started to notice a big, almost circular mass of water that just didn't cool off as much as it usually did," said Nick Bond, a climate scientist at the UW-based institute. "So by spring 2014, it was warmer than we had ever seen it for that time of the year."

The blob, Bond says, runs about 1,000 miles in each direction and 300 feet deep. It likely contributed to the mild 2014 winter and could signal a warmer summer, as air passing over the blob remains at a higher temperature when it hits the coast.

Bond says that although the blob does not seem to be caused by climate change, it has many of the same effects for West Coast weather.

Though scientists are unsure how the blob came about, all models point to the blob remaining through the end of this year, possibly resulting in more tropical discoveries in the area.

"It's an interesting question if that's just natural variability happening or if there's something changing about how the Pacific Ocean decadal variability behaves," Dennis Hartmann, a UW professor in atmospheric sciences, said.