'My faith in humanity is restored': German hiker rescued in Snohomish County


SNOHOMISH COUNTY, Wash. - A hiker from Germany who trekked the Pacific Crest Trail for months, had to be rescued by the Snohomish County Sheriff's Search and Rescue team on Tuesday.

During a press conference on Wednesday in Snohomish, Katharina Groene credits the sheriff's department for finding her, but also a fellow hiker who she met just a few days prior.

"My faith in humanity is definitely restored, so box checked," said Groene.

Katharina started on the Pacific Crest Trail in May. The trail is more than 2,600 miles and goes from southern California to the Canadian border.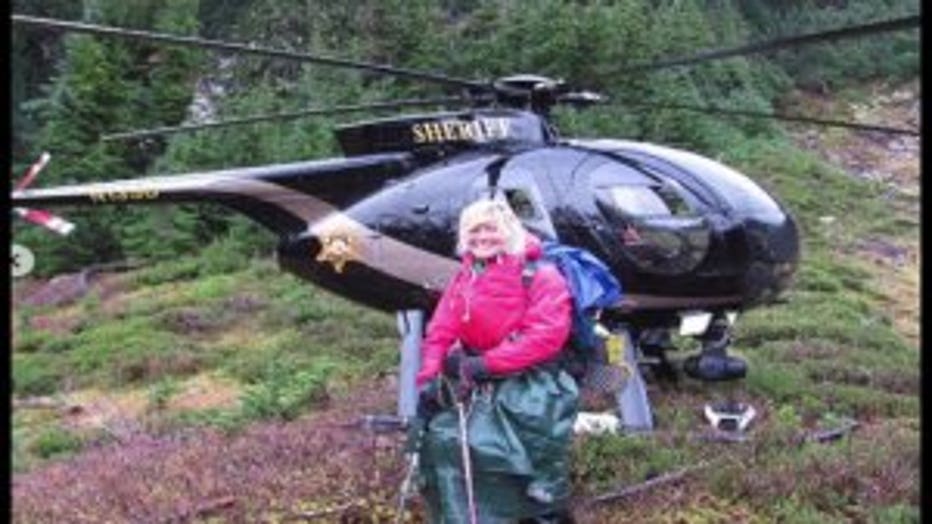 Photo used with permission.


It was on Wednesday, October 24, when Katharina met another hiker, Nancy Abel of Sultan. Abel said she was making her way back to Sultan from Stevens Pass when she met Katharina.

"I have a daughter her age, who by the way lives in Germany. And my daughter has a similar spirit of adventure," Abel said.

After talking for a couple of hours, Nancy tried to convince Katharina not to continue north to Stehekin because of expected cold weather conditions.

"I knew she didn't have snow shoes. And I knew she'd be up there by herself. And I'd been through a storm in the same area and we couldn`t go anywhere for three days. It was terrifying," said Abel.

But eventually, Katharina believed she was equipped for the weather and continued on the trail. Just days after their meeting, snowy weather met Katharina near Glacier Peak. Katharina was running out of water and food, she said.

"My food was running out. I was stretching it. I had one Pop Tart. Every day I was thinking I can survive for another seven on food," said Groene.

According to Groene though, she was losing hope, even deciding to call her loved ones to let them know she was going to die on the trail.

"I already, via WhatsApp, informed my parents, apologized for dying on the PCT, for risking too much, for being too stupid to inform people how many days I'm going to take," said Groene.

But Nancy's intuition about the weather conditions and Katharina's safety concerned her. Nancy had started a forum on Northwest Hikers. Nancy said that one person had responded saying they had met Katharina near Lake Valhalla.

Nancy believed Katharina was in danger from the weather and was not going to make it to Stehekin. Nancy contacted Search and Rescue on Oct. 29 and reported her concerns, the sheriff's department said.

"She (Nancy) had a pretty good idea, in her mind on where she was going to be based on weather and the amount of weight she was going to be carrying," said Sgt. John Adams of the Snohomish County Sheriff's Office Search and Rescue team.

Search and Rescue launched their helicopter, SNOHAWK1 despite bad weather conditions.

"We had some moderate to heavy showers between here and the mountains," said Bill Quistorf, Chief Pilot. "There's no weather reporting stations or WSDOT cameras showing what the conditions are, other than at Stevens Pass."

The big clue came near Mica Lake, when pilot Einar Espeland found a set of human tracks in the snow.

"I did spot one set tracks, we got down real low to verify they were human tracks. It was one single set and the direction they were heading, they were headed north," said Espeland.

The crew then flew to the next ridge next to the Milk Creek drainage above the snowline to see if they could re-acquire the tracks. That's when they found Katharina.

"I had just spotted her in the tall timber. She had just come into a little opening. She was wearing a reddish jacket, which was nice, it was bright," said Espeland.

However, the crew was running low on fuel and they had to find a landing area, which proved to be difficult because of the deceiving landscape that looked flat but was really sloped, they said.

"I told Einar to hop out. We had some logs and branches around us. I told him to grab three logs and then you put those three logs underneath the right skid," said Quistorf.

But eventually, the crew found Katharina

"I was crying. I was screaming for help before," Groene said.

Katharina said she is grateful for Nancy for saving her life.

"I knew who called. But who does call for a stranger? Like no people call for strangers," said Groene.

For which Nancy responded…" well, you weren't a stranger. You talked my ear off for two hours. I knew your whole life story by the time we parted ways," Abel laughed during the press conference.

Both Nancy and Katharina said they will be lifelong friends. According to the sheriff's department, Katharina will be staying with Nancy until she's ready to return to Germany.

The sheriff's department is reminding hikers that winter weather comes much earlier in the mountains and it is extremely important to be well prepared with proper clothing, shelter and food when backpacking.