Music helps healing process for 6-year-old who nearly died


SEATTLE -- Kids are resilient, but sometimes they need a little nudge. For a Seattle boy who recently became very sick, that extra push came from the unlikeliest of places.

If there`s one thing A.J. Hwangbo knows for sure, it`s the power of music.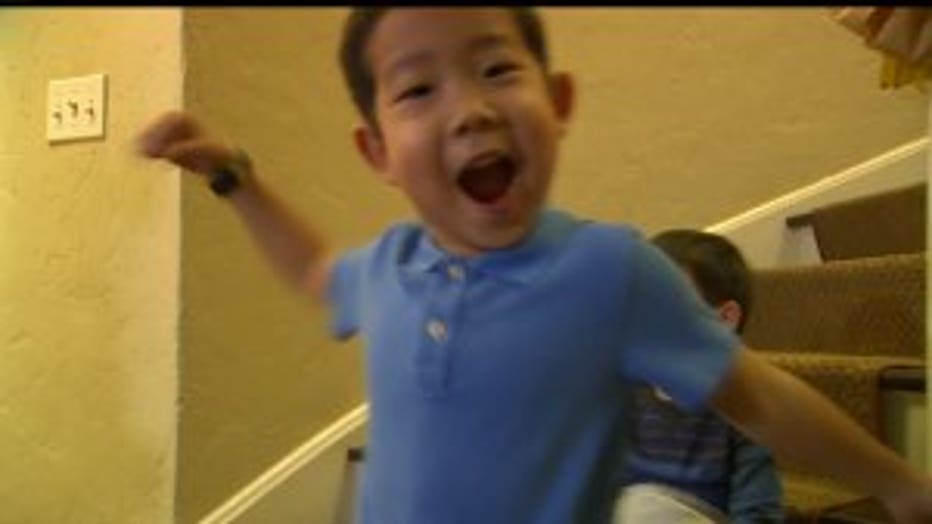 That`s because when this 6-year-old was knocking on death`s door, music brought him back.

"We had just returned  from a family trip from Chicago" last November, his mother, Yoo-Lee Yea, said.

A.J. was sent home after he got sick at school.

'At midnight he threw up consecutively," his mom said.

Knowing something was seriously wrong, his parents rushed him to Seattle Chidren`s Hospital.

"When he first came to the hospital he was very sick," said Dr. Mike McMullan. "But the next day, he looked so bad we were convinced he was not going to survive."

An unknown virus had attacked A.J's once-healthy heart.

The little boy who just a couple days earlier was perfectly healthy was  in serious trouble.

His heart was no longer pumping blood on its own.

"You see the heart pumping. His heart, when they zoomed out, it was stiff and just jiggling," his mom said. "When I saw that, there were just gasps in the room.  At that point, I didn`t know if he was going to be here much longer."

"Over the course of the next several hours, he continued to get worse," McMullan said, "and by the next morning, something had to be done or he was going to die."

A.J. was  diagnosed with acute viral myocarditis.

Doctors inserted a device that pumped blood for A.J.'s heart.

Three surgeries later, the 6-year-old had miraculously turned a corner.

Physically, A.J. was healing. But there was still something wrong.

"He was drooling, he was not eating, not talking, he was just staring straight through me," A.J.'s mom said.

Dr. Alisa Van Cleave,  who is on the pediatric advanced care team at Seattle Children's, said after a traumatic experience, it`s common for kids to detach, or become depressed.

Her job is to find them and bring them back.

"The first time, I met with A.J.`s parents, I asked them tell me about A.J., what is he like?" Van Cleave said. "They told me how unique he is as a 6-year-old.  And one of the examples they gave is that he loves Macklemore as an artist."

Yoo-Lee said Van Cleave "whispered we have two tickets to the Macklemore concert tonight. And of course, I asked his cardiologist, he says it's okay.  I thought, oh my, we've been in the hospital for weeks.  He`s been outside once.  He`s still drooling."

But his mom said her concerns were lessened later.

"I talked to him that morning, and I said, A.J.,  the hospital has two Macklemore tickets, and he had the hugest smile on his face," Yoo-Lee said.

That night, A.J. went to the concert.

And with the help from Seattle Children`s staff, he got backstage to meet his musical idol, Macklemore.

"He seemed a lot more himself that evening," his mom said. "I didn't have to wipe his mouth the whole concert."

The next day, A.J. spoke for the first time in weeks.

"I've seen kids become withdrawn and sad, and depressed because of a traumatic experience they`ve been through - that is definitely common," Van Cleave said. "What I haven`t seen before is the incredible transformation in such a short time with one really amazing event in the way it happened for A.J."

And life has pretty much returned to normal, proving sometimes the best medicine isn`t medicine at all.

Doctors are hopeful A.J. will make a full recovery within a year.

As for A.J., he said he's feeling great and would like to see Macklemore again, to thank him.